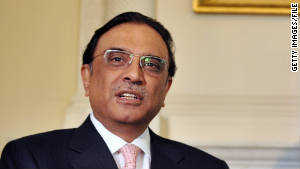 STORY HIGHLIGHTS
The hospital visit sparks speculation about Zardari's political fate
News and social media are abuzz with speculation of Zardari's departure
Reports of a heart attack are "speculative, imaginary and untrue," said aide to PM
Pakistan's president is in Dubai for medical tests, spokesman says
Islamabad, Pakistan (CNN) -- Pakistani President Asif Ali Zardari has traveled to Dubai for medical reasons, fueling speculation in Pakistan that the embattled leader may resign.
The president was undergoing routine tests related to a previously diagnosed heart condition, according to his spokeswoman, Farahnaz Ispahani.
His trip sparked rumors that he had suffered a heart attack, but a spokesman for Prime Minister Yousuf Raza Gilani, Farhatullah Babar, described those reports as "speculative, imaginary and untrue."
The president went to Dubai "at the insistence" of his children, the prime minister said. Zardari had been in exile there before.
"Investigations carried out so far are essentially within normal range and the president's condition is stable," according to a statement from Zardari's physician.
Zardari's trip occurred amid growing controversy in Pakistan over a scandal -- dubbed "Memogate" -- in which Pakistan's civilian leaders were supposedly coming up with a plan to unseat the country's military leadership. It also comes as Zardari was to soon address Parliament, where he was expected to discuss Memogate.
Foreign Policy, the American journal, noted that Zardari left "suddenly" and asked if he is "on the way out." Twitter has been abuzz with similar speculation, with one message saying, "Zardari's nice move to resign. A clear way for martial law."
The president took office in 2008 after his wife, former Prime Minister Benazir Bhutto, was assassinated.
Relations between Pakistan and the United States have deteriorated markedly this year.
The United States has been incensed over apparent ties between anti-American militants and the Pakistani military.
Pakistan has been enraged over the U.S. raid in Abbottabad that killed al Qaeda leader Osama bin Laden and most recently, over the killing of two dozen Pakistani soldiers by NATO forces.
Amid heavy domestic pressure, Zardari's government made decisions unpopular with the United States, such as stopping the transport of NATO supplies through Pakistan and asking the U.S. military to vacate the Shamsi air base, which some U.S. officials have said was used to carry out drone strikes against suspected Islamic militants. Pakistan also boycotted a conference in Germany this week on the future of Afghanistan.
The Memogate scandal has emboldened Zardari's opponents, who think he favors closer ties with the U.S. military.
Husain Haqqani, the former Pakistani ambassador to the United States, is accused of writing a memo setting out the scheme.
The plot reportedly called for taking power away from the country's senior military and intelligence leaders, requesting U.S. assistance in stopping a military coup, asking for American backing of the Zardari government, and vowing to make Pakistan's foreign policy favorable to the United States.
Haqqani says he didn't write the memo, which allegedly was passed along to U.S. officials by Pakistani-American businessman Mansoor Ijaz days after a U.S. military raid killed bin Laden in Pakistan in May. Even so, Haqqani resigned last month as Paksitan's ambassador to the U.S.