Activists, security forces clash in Egypt
December 17, 2011 -- Updated 0320 GMT (1120 HKT)
STORY HIGHLIGHTS
NEW: 6 are dead and at least 300 injured, the Egyptian Health Ministry says
An investigation is under way, a government spokesman says
Glass, rocks and Molotov cocktails are thrown
The beating of an activist sparked the violence, activists say
Cairo (CNN) -- Six people were killed and at least 300 were injured when pro-democracy activists clashed Friday with Egyptian security forces in central Cairo, a government official said.
Two of the dead were teenagers and one was an Islamic scholar, said Dr. Hisham Shiha, a spokesman for the Ministry of Health. At least four of the fatalities suffered gunshot wounds, with one person shot in the back of the head, he said.
Adel Saeed, a spokesman for the general prosecutor, said an investigation is under way. "We are questioning 14 men detained at scene of clashes and we have a team now at two hospitals questioning the injured to understand how the injuries were inflicted," he said.
A separate team was at the morgues following up on the deaths, he said.
Meanwhile, people were throwing Molotov cocktails, rocks and glass.
Men wearing what appeared to be military uniforms tossed bricks and concrete on protesters from atop a six-story building. A Ministry of Transportation building burned nearby, and tents in an activist encampment in front of parliament caught fire.
The military fired warning shots into the air and sprayed water cannons to disperse the crowd.
Shiha said nearly 100 people were hurt, including nine who were shot by live ammunition. Saeed said 12 people were charged with destroying public property.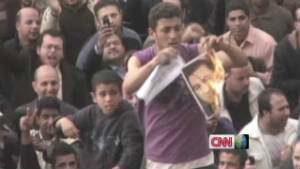 The Arab Spring: 2011 defining moment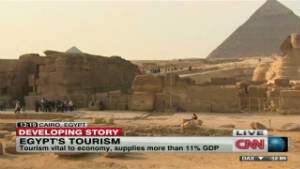 Egypt tourism in steep decline
Are you in Cairo? Tell us what the mood is like.
A Ministry of Interior official denied police were involved.
"This situation has nothing to do with the police or the Ministry of Interior, and we do not have forces at the site of the clashes," said Gen. Marwan Mustapha, a ministry spokesman.
A doctor at a clinic said he had treated dozens of protesters for cuts and injuries caused by flying glass and rocks.
"It all started when the military arrested one man, and then an hour later he emerged from building barely able to walk from the beating," said activist and video blogger Walid Nada. "His face and body and clothes (were) blotched with blood as the protesters carried him to (a) makeshift hospital."
Activist Mona Seif identified the beaten man as Aboudi Ibrahim. He "has no broken bones, but major bruises to the face, cuts and harsh burns from electric shockers. We are filling a police report soon," she said.
Activists have been camping outside parliament in protest of the military-appointed prime minister.

Today's five most popular stories
Part of complete coverage on
April 12, 2012 -- Updated 0052 GMT (0852 HKT)

Egypt's administrative court has suspended the country's 100-member constitutional assembly. What does that say about the country's progress toward political reform?
April 11, 2012 -- Updated 1727 GMT (0127 HKT)

On February 1, riots at a football match in Port Said plunged Egypt into mourning and despair -- the future of one of African soccer's traditional powerhouses seemed bleak.
February 2, 2012 -- Updated 1046 GMT (1846 HKT)

Political tensions flare after more than 70 people die and hundreds are injured when fans riot at a soccer match in the Egyptian city of Port Said.
February 4, 2012 -- Updated 1511 GMT (2311 HKT)

The scenes in Port Said will leave an indelible mark on post-revolution Egypt because soccer matters more here than anywhere, argues James Montague.

An Egyptian photographer found himself in the middle of the Arab Spring. Months after the demonstrations died down, he returned to document what had changed.
January 25, 2012 -- Updated 1948 GMT (0348 HKT)

The protests in Egypt that toppled Hosni Mubarak began one year ago today. But some are asking now: What's the difference?
January 25, 2012 -- Updated 1945 GMT (0345 HKT)

It's been a year since the mass protests started in Egypt but one author says the seeds of revolution were sown years ago.
January 25, 2012 -- Updated 1319 GMT (2119 HKT)

Many Egyptians wonder if the revolution amounted to nothing more than a military coup, writes Aladdin Elaasar, a former professor and author.
January 22, 2012 -- Updated 1214 GMT (2014 HKT)

Egypt's first democratically elected parliament is to meet Monday - but that is not the end of the country's revolution.
January 23, 2012 -- Updated 2130 GMT (0530 HKT)

A look at some of the moments from the first 18 days of upheaval in Egypt that culminated in political change.