STORY HIGHLIGHTS
NEW: A State Department spokesman says no decision has been made
But an administration official said the decision was to allow Saleh entry for medical treatment
The official acknowledges a debate within the administration
The decision could empower al Qaeda, an analyst says
(CNN) -- Embattled Yemeni President Ali Abdullah Saleh will be allowed to come to the United States for medical treatment in New York, a senior Obama administration official said Tuesday.
While the White House hopes the move could ease tensions in Yemen, analysts said it could incite further violence, weaken U.S. standing, and potentially help empower al Qaeda.
State Department spokesman Mark Toner, meanwhile, said no decision has been made, and that officials were "adjudicating " the request solely on the merits of Saleh's request for medical treatment.
But the Obama administration source, who was not authorized to speak on the record because of the sensitivity of the issue, said the decision was made. The official also acknowledged a debate within the administration.
The United States does not want to come across as providing safe haven to a dictator responsible for a violent, deadly crackdown on an uprising, the source said.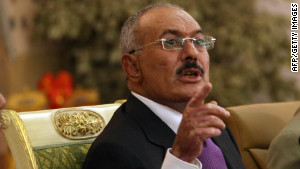 Yemeni president seeks U.S. entry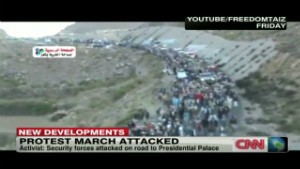 Yemen marchers attacked in Sanaa
The decision was made in hopes that Saleh's departure from Yemen could ease tensions in the country and help pave the way toward elections next year, the official said.
But it could have the opposite effect, said Brahma Chellaney, professor of Strategic Studies at the Center for Policy Research based in New Delhi.
"For the United States to give him refuge only incites more violence in Yemen," said Chellaney. "And it unnecessarily whips up anti-American passions. The last thing the United States should be doing is giving the impression that it is actually sheltering Saleh."
On Monday, White House spokesman Josh Earnest said U.S. officials were considering Saleh's request to come to America "for the sole purpose of seeking medical treatment."
Yemeni forces have killed hundreds of protesters in the uprising this year, U.N. officials have said.
Yemeni officials rejected such assertions, saying the military took action against criminals and that investigations would determine whether peaceful protesters were killed.
Large demonstrations, at times drawing thousands of participants, were aimed in part at getting Saleh out of office.
Once Saleh agreed that he will cede power in February, further demonstrations have largely "been about putting him on trial and making sure he does not escape from Yemen," said Chellaney. "So if he is given refuge in the United States -- which is what the U.S. is effectively doing -- it will not calm the situation in Yemen. It could lead to more bloodletting."
Saleh was wounded in a June bomb attack on his presidential palace.
He received medical treatment in Saudi Arabia, as protests grew against his 33-year rule. When he returned, a new round of protests took off.
In November, U.N. Secretary-General Ban Ki-moon said that Saleh had told him he would come to New York for medical treatment after signing an agreement to step down. Under the deal, brokered by the six-nation Gulf Cooperation Council, the president agreed to transfer power into the hands of a coalition government.
"If the U.S. had offered to treat him when he was seriously injured, it would have made sense," said Chellaney. "But the guy is walking around, talking tough, acting tough. He's back to his normal state as a brutal dictator. And there is no indication that he's suffering from any medical condition that requires treatment only in the U.S."
Katherine Zimmerman of the American Enterprise Institute's Critical Threats Project said the U.S. decision "furthers a narrative on the Yemeni street that the U.S. has supported Saleh throughout the protests."
Al Qaeda in the Arabian Peninsula (AQAP) has increased its strength throughout the year, benefiting from the increased instability and telling protesters that it has long stood up against the regime, Zimmerman said.
AQAP, which includes terrorist operatives in Saudi Arabia and Yemen, is blamed for the failed attempt to bomb a Detroit-bound plane on Christmas Day of 2009.
FBI Director Robert Mueller, speaking in October, called the group "a significant threat to the homeland."
Saleh has been an ally of the United States in efforts against terrorism, particularly against AQAP.
Allowing Saleh into the United States will enable AQAP "to propagate the connection that the Yemeni regime has to the United States," Zimmerman argued.
But Zimmerman said she does not expect an increased security threat to the United States or its interests overseas based on the decision.
And, she said, U.S. officials are right that drawing Saleh away from Yemen might help. "It's a question of whether taking Saleh out" of the country "will prevent him from influencing or from giving orders to his lackeys within the regime."
In 1979, then President Jimmy Carter allowed the deposed shah of Iran, Reza Pahlavi, to enter the United States for medical treatment.
As the U.S. State Department notes in its document, "History of the Bureau of Diplomatic Security of the United States Department of State," it was after that move that Iranian students stormed the U.S. Embassy and took 63 Americans as hostages.
Zimmerman said the decision on Pahlavi does not compare to the decision the United States faces on Saleh.
"Saleh is not exiled already, and he is actively seeking to leave," she said. "And in this case, the administration has been right in trying to pursue conditions on the ground in Yemen before accepting Saleh into the United States."
Chellaney complained that the U.S. decision on Saleh shows a lack of consistency.
By agreeing to allow "Yemen's reviled dictator to enter," Chellaney said in a tweet, "Washington shows it still distinguishes between 'good' despots and 'bad' despots.'"
He pointed to how the United States reacted to protests in Libya. Saleh "has more blood on his hands" than Libyan leader Moammar Gadhafi did before the NATO intervention, Chellaney argued.
"This guy should be put on trial before the International Criminal Court. The United States should not be granting him" entry," Chellaney added.
CNN's Elise Labott and Jill Dougherty contributed to this report.