Civilians in Syria face fight for supplies
January 11, 2012 -- Updated 1234 GMT (2034 HKT)
STORY HIGHLIGHTS
Daily challenge for civilians in Syrian city of Homs is finding food, fuel and medical care
One foreign journalist and film-maker who was recently in Homs describes life there
While people are not yet starving, he said food was becoming harder to find
Search for fuel is also necessity as average night-time temperatures hover around zero
(CNN) -- In Homs, Syria's third-largest city and a focus of resistance to the regime of President Bashar al-Assad, snipers pose a direct threat to civilians. But the risk of being shot is just one problem they face -- their daily challenge is finding food, fuel and medical care.
One foreign journalist and film-maker who was recently in Homs said trash was piling up in the streets and fighting has led to a shutdown of basic services. CNN has agreed not to name the journalist for his own security.
While people are not yet starving, he said food was becoming harder to find. The journalist filmed a long line of people queueing for bread in the district of al Khalediyah. One man described his struggle to eat: "I have not eaten bread for 10 days. With all these checkpoints and the constant shooting it is almost impossible to move around."
Hi-res photo gallery: Defiance, death in Homs (Part 1)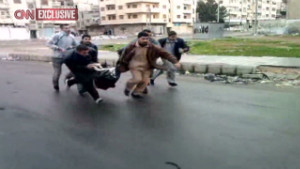 Homs 'point of no return crossed'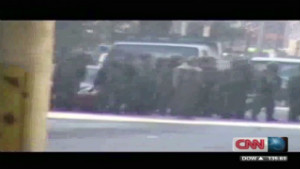 Report: Crowds shot at in Douma, Syria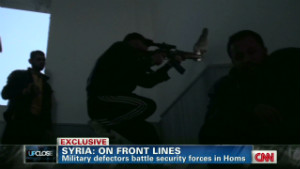 Military defectors put up fight in Syria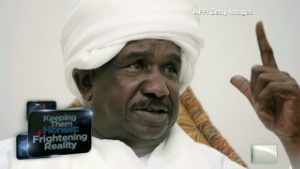 Syria's frightening reality
The search for fuel is also a necessity amid the harsh Syrian winter in which night-time temperatures regularly drop to freezing point. Some petrol and oil is sold on the black market, but that is insufficient for most local people who are forced to cut down city trees for firewood to stay warm.
These shortages have only increased hatred for the regime, the journalist said. One woman told him: "We only have rice to eat and not even every day. Bashar al-Assad is killing our children. What kind of government is that supposed to be."
Amid the destruction in these neighborhoods, there is little medical care for the victims of snipers or indiscriminate shelling. People who could be saved with the right treatment are dying of their injuries.
The journalist visited a makeshift hospital in a secret location at which a doctor, who did not want to be recognized, was treating two casualties: one with a head injury, the other with shrapnel wounds.
Hi-res photo gallery: Defiance and death in Homs (Part 2)
"We can only treat the wounded in our own homes," the doctor said. "And we can just do basic first aid here. The government hospitals are infiltrated by Assad militias who would kidnap, harm and even kill the patients."
While this makeshift clinic is fairly well stocked, the set-up is rudimentary. There is no X-ray machine, no life-support machines -- and the blood bank? It's in a refrigerator next to groceries.
Those trying to save lives say they would be at great risk if they fell into the hands of the regime. "It is a big danger for me and my family," the doctor said. "We are at risk of getting kidnapped, shot and killed."
Those who can't be saved don't even receive a dignified burial. At a funeral procession in al Khalidiyah, instead of a family laying their loved one to rest, only four people are allowed to take the coffin to the cemetery. Otherwise, they say, the funeral would come under fire.

Today's five most popular stories
Part of complete coverage on
Horror in besieged Homs
February 7, 2012 -- Updated 2029 GMT (0429 HKT)

Activistsin Homs plea for help as the Syrian government boosts an assault on the opposition.
February 7, 2012 -- Updated 1657 GMT (0057 HKT)

Homs is a warzone as President Bashar al-Assad's army strikes fiercely at the heart of Syria's 11-month-old anti-government uprising.

Graphic images of the devastation wrought in clashes between Syrian forces and the opposition in Homs.
February 7, 2012 -- Updated 1434 GMT (2234 HKT)

Syrian activist Danny Abdul-Dayem tells the story of what it's like to live in Homs amid the increasing violence.
January 11, 2012 -- Updated 2213 GMT (0613 HKT)

Anti-government protesters in Syrian city of Homs say they prefer death to humiliation, says one filmmaker.
January 11, 2012 -- Updated 2213 GMT (0613 HKT)

A filmmaker who just returned from Syrian city of Homs describes fight for survival that citizens in restive city face.

A journalist's photos show the daily life-and-death struggle in Homs, as government forces increase their strangehold on the city.
January 11, 2012 -- Updated 2212 GMT (0612 HKT)

Activists in Syria feel it is a part of al-Assad regime's policy to deny dignity to the dead, says one filmmaker.

Click on countries in CNN's interactive map to see the roots of their unrest and where things stand today.

Are you in Syria? Send iReport your images, videos, and stories -- but don't do anything that could put you at risk.