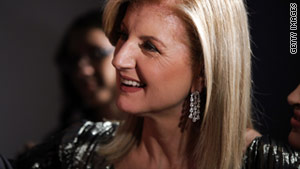 Arianna Huffington set up the left-leaning Huffington Post in 2005 as an alternative to the right-wing Drudge Report.
STORY HIGHLIGHTS
AOL to pay $315 million for left-leaning blog and news site The Huffington Post
Arianna Huffington will become editor-in-chief of merged company's media group
Merger latest in a long line of link-ups between new media companies and traditional firms
(CNN) -- Internet provider AOL is to buy news and blog website The Huffington Post for $315 million, the latest in a long line of innovative start-ups snapped up by established big-name firms.
According to their figures, the sale creates one of the most widely read online media organizations.
So what will the merger mean for the two companies, and for the online news industry as a whole?
What does it bring to AOL?
For its $315 million investment, AOL is buying itself a fashionable and rapidly growing brand popular among center-left circles in the U.S. and overseas.
AOL's chairman and CEO, Tim Armstrong, said he hoped the purchase would "create a next-generation American media company with global reach."
Digital media commentator Kara Swisher, of All Things Digital, says AOL has secured growth, excitement, and most importantly, an identity.
"AOL doesn't really stand for anything, it doesn't have a brand or an image, and they've just bought themselves the most valuable profile on the internet."
And how does it benefit The Huffington Post?
Arianna Huffington, co-founder and editor of The Huffington Post, will become president and editor-in-chief of the merged group's combined media division.
In return, The Huffington Post will have access to content from AOL's other sites, including video and technology news.
"It's good for the investors," says Swisher. "They look great.
"The company was moving slowly, they could either sell or go public, and they weren't really in a position to go public, so this was the best option -- and it's a lot of money."
Will it change The Huffington Post?
Arianna Huffington insists any changes will be positive ones: "The Huffington Post will continue on the same path we have been on for the last six years -- though now at light speed...
"Our readers will still be able to come to the Huffington Post at the same URL, and find all the same content they've grown to love, plus a lot more -- more local, more tech, more entertainment, more finance, and lots more video," she said in a statement.
Swisher says the Huffington Post will likely maintain its "left-ish" political stance, but notes that the site is not as left-leaning as some would believe.
"She's [Huffington] been going more central, she's certainly the most vocal critic of the Obama administration from the Democratic side."
What will the move mean to the market?
AOL and The Huffington Post say the newly merged group will have a combined 117 million unique visitors a month in the U.S. and 270 million around the world, potentially making them the most-read online media group in the world.
Swisher says the problem facing media companies nowadays is that "young people don't go to destination websites any more - they 'snack' all over the place" and firms have to find ways to feed that hunger.
Is the link-up part of a wider trend?
The marriage between The Huffington Post and AOL is the latest in a long line of innovative online "upstarts" snapped up by more established traditional firms.
Last November, troubled publishing giant Newsweek merged with relative newcomer The Daily Beast, founded just two years ago by former Vanity Fair editor Tina Brown.
"Companies shouldn't think 'print' or 'online' anymore," says Swisher. "They are media companies. Rupert Murdoch, for example, sees the writing on the wall, which is where The Daily comes from."
Will it succeed?
Previous old school-new media mergers have had a mixed record. Social networking stars such as Bebo and MySpace faded after they were bought out by AOL and News Corp. And let's not forget the merger in 2000 between AOL itself and Time Warner, parent company of CNN, described by some sober-minded analysts as the worst business deal in history.
Swisher says this time around, it's all in the execution. "The concept is a great idea -- in theory.
"It will all come down to the execution: If they're able to create content people want to read, if they keep on making good stuff, growing the audience, and if it makes money from advertising.
"AOL is trying to revive itself -- we shouldn't assume it's not going to succeed just because there have been issues before.
"It is a bold declaration of strategy: He's [Armstrong] got all the pieces now -- let's see what he does with them."
FOLLOW THIS TOPIC