STORY HIGHLIGHTS
Cadir Lee is chief technology officer at social media company Zynga
Lee had planned to pursue a career in medicine before he got into programming
Zynga has grown rapidly and Lee has ambitious plans for the company
Editor's Note: Behind FarmVille's crop harvests and CityVille's tax collection, an army of servers is constantly measuring how more than 50 million users play each day. Chief Technology Officer Cadir Lee is in charge of the constantly changing, and rapidly expanding, technology behind these games at social media company Zynga. He explains how he went from being pre-med at Stanford to an executive in charge of steering one of Silicon Valley's most buzzed-about tech operations.
(CNN) -- For my senior year at Stanford, my very last quarter, I took a computer science class just to fulfill a requirement. I thought I was going to go on to medical school, I had taken the MCAT. But in that class I actually fell in love. So I spent a year doing biotech work and programming at night and studying and reading. Then I got a job programming -- I went in and convinced them that I was pretty decent at writing code and I was pretty passionate about what I wanted to do.
And that's where I met (future Zynga CEO) Mark Pincus, who ended up being a pivotal figure in my career. We just started having lunch together and talking about ideas. We didn't even work particularly closely together. But we both had tremendous passion for what we did -- I think that's one of the threads that has bound us together now across three companies.
Even in your early job, there might be someone that you're just having lunch with and having fun conversations with who ends up being a business partner of yours. You have to collect these people and keep in touch with them because they can end up having major impact.
Aim higher than you think you can go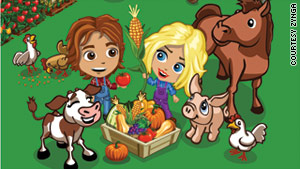 As CTO of Zynga, Cadir Lee is in charge of keeping social network games like FarmVille humming along.
One of the things I like to do when mentoring is to challenge people to do more than they think they can do -- give them a project to help them to think bigger than they might have and encourage them to take a big step forward.
Very, very early in my career I actually had the opportunity to write a web browser, it was actually my first programming job. That was such a challenging assignment -- I got to work with one of the most senior people in the office and it really pushed me, and I think it was really valuable for my career to dive right in.
Favorite office perk: A shuttle we run between Los Gatos and San Francisco. It feels like it gives me two extra hours a day.

Office snack of choice: Our culinary team will take suggestions, and I was on a kick for wasabi peas and sent in a note suggesting them. The next week wasabi peas showed up.

Quirky item in the corner office: When I'm thinking or mulling something over, I'll yo-yo. I have probably 20 or 30 yo-yos.

Latest gadget: I just got a new Android phone and an Android tablet and I'm kind of enamored with setting them up and exploring the potential of those devices.

Pet peeve: E-mail. Sometimes the lack of e-mail etiquette or the sheer volume can be a bit of an annoyance. I do have some pretty amazing filtering systems, but even so the volume is pretty high.

I wish I had known this more deliberately, and it's advice that I give to people who join Zynga. I see too many people who get to a certain point and stop learning. Whatever it is you're working on, try and learn it as deeply as you can.
Data means big business
I'm a huge believer in people having information to make good decisions and trying to make that information as available and accessible as possible. There are hundreds of micro-decisions being made every day, and the more information everybody has, the better they can make those decisions.
Every single employee at Zynga has access to our analytics portal -- every single employee can go and see how our games are doing and how many users played yesterday, or any of several hundred other reports. In meetings we ask questions about metrics, and we expect people to be watching and know them.
A lot of companies don't really believe the numbers or act on the numbers. We act swiftly on the numbers. If we push out a new feature -- say a green alien space cow -- within a few minutes, we know what percentage of FarmVille users interact with that, how many placed it, how many skipped it.
And we're not reluctant to make swift and hard decisions based on that. We really believe in not trying to be perfect all the time, but just to have many, many iterations we can try. I really look at it as trying to put more bets on the table than anyone else and move through them quickly.
Adjusting to life at the top
Especially with the rapid pace of growth at Zynga I've really learned that I have to personally let go. That's a hard one, because I like to get my hands dirty, and I like to write code. Part of the extreme growth that we've had involves learning that you have to get great people and trust that they're going to be able to figure it out and take care of it and often do it better than you can, because they're focused on it 100% of their time.
I enjoy the growth phase, but in 10 years I hope that we will be really huge and can look back and say that Zynga has just become part of the vernacular -- one of those verbs on the internet that means to play.
We have lots of people at Zynga for whom this is their first job and they're right out of school -- they don't realize how amazing it is to have the kind of success and growth that we've had. I think in many ways I'm able to savor it more, and I'm realistic as well -- I've seen the odds. I know that the chances of getting to be part of something like this are really rare. That might sound a little sad, but I doubt that I'll have that opportunity again.
FOLLOW THIS TOPIC