Hershey's raises prices nearly 10%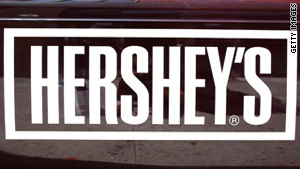 It's not clearly whether the price increases will take effect before Easter.
STORY HIGHLIGHTS
Chocolate maker announces price increase
Company reaffirms financial outlook for 2011
(CNN) -- The Hershey Company says it is raising wholesale prices by 9.7% on most of its candy products.
The maker of Reese's, Kit Kat, Hershey's Kisses and Twizzlers cited increased costs for raw materials, fuel, utilities and transportation.
It was not clear whether customers would see the price changes before Easter, a big season for chocolate sales. CNN left a message with Hershey's Wednesday but received no immediate response.
In a statement, Hershey's said it was immediately increasing the weighted average price in the majority of its U.S., Puerto Rico and export product line.
"Our products and our category will continue to provide the value and quality that consumers expect, and this action will position Hershey to achieve the opportunities that lie ahead," said David J. West, president and chief executive officer of the Hershey, Pennsylvania-based company.
The company reaffirmed its financial outlook for 2011.
"We expect the majority of the financial benefit from this pricing action to impact our earnings in 2012," Hershey's said.
Hershey's shares closed down 10 cents Wednesday to $54.69.
FOLLOW THIS TOPIC