STORY HIGHLIGHTS
Non-profit green energy company is helping Bangladeshis power their lives

Grameen Shakti solar panels are helping grow the local economy

Villagers trained to install and maintain solar panels which cost $300
(CNN) -- Bangladesh has a serious power problem. Nearly half of its 162-million population does not have access to electricity.
Light can change lives, which is why the residents of this small village are beaming about one project that is harnessing the power of the sun.
Grameen Shakti a non-profit company in Bangladesh is introducing solar power, borrowing power, and girl power to the villagers all at the same time.
The program trains village women to install and repair solar panels and electrical outlets on homes and businesses.
"This kind of job will help the women and they will be able to contribute financially to their family. It will be good if this kind of job opportunity expands," Trainee Monowara said after coming down from installing a solar panel on the roof of a villager's house.
While increasing her own family's income she says her work is also changing the lives of her neighbors.
This kind of job will help the women and they will be able to contribute financially to their family.
--Monowara, trainee solar installer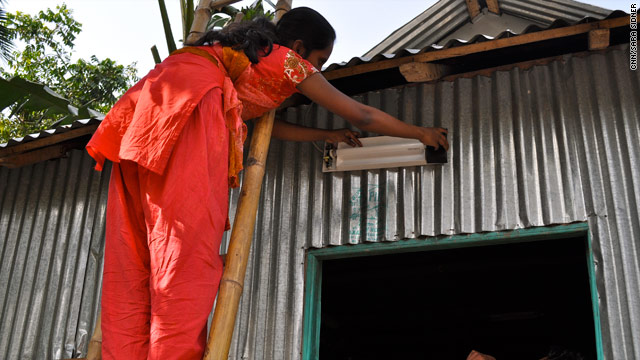 Gallery: Bangladesh solar project
For 40-year-old Fatima Begum it means she will have electricity in her home for the first time in her life.
"I used kerosene lamp for the light but it blackened my house with soot," she said.
Now Begum and her family can breathe easier and have appliances in their home.
But the panels don't come cheap. They cost about $300 dollars -- around half of what Bangladeshi's earn per year on average.
"You know the first barrier was high up on the cost of the solar system. We've overcome that problem by introducing micro-credit tools. The people, when they buy a solar home system they don't have to pay all the money at a time," Grameen Shakti Senior Manager Fazley Rabbi said.
And the solar power program is self-sustaining -- the cost of the panels pays for the training of the local technicians.
Solar power isn't just being used in homes here in fact nearly every single business along this street is using it and some are making much bigger profits because of it.
Tailor, Ekabaar Ali, says the solar light means more time to sew and sell his clothes.
"We could not work much before we got the solar power. We had to stop work before sun set. But now we can work until 10 in the night so it boosts my income. It's good," He said.
His boss, the shop owner, said his profits have nearly doubled since the solar panel was installed.
The solar power program has also sparked an entrepreneurial spirit in the village.
"They're using the energy in different ways so they can earn more money. One business is they're renting the light to others." Grameen Shakti's Fazley Rabbi said.
Another moneymaking venture is linked to the popularity and cheap cost of cell phones.
One solar powered shop in the village offers a charging station for a few cents per charge. After all what good is a cell-phone if the battery is dead?
Grameen Shakti technicians have installed 550,000 home solar systems in 40,000 villages since the program began in 1996.
Bangladesh's abundance of sunlight is being harnessed on a massive scale to try and improve the lives of its impoverished residents.
FOLLOW THIS TOPIC