Tokyo Electric stock surges after approval of rescue plan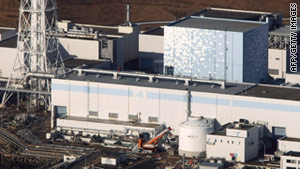 The Fukushima Daiichi Nuclear Plant is owned by TEPCO.
STORY HIGHLIGHTS
Government rescue plan fuels power company's rebound
Tokyo Electric Power Co. stock gains 32%
Tokyo Electric shares added 80 yen to close at 329 yen
(CNN) -- Japan's beleaguered Tokyo Electric Power Co. received some rare good financial news Wednesday as its stock soared 32% after the government approved a rescue plan a day earlier.
TEPCO shares added 80 yen to close at 329 yen.
Speculators were in a buying mood after Japan's government approved the rescue plan for the owner of the crippled Fukushima Daiichi Nuclear Plant. The plan also must be approved by the Japanese parliament.
The plant was damaged during the March 11 earthquake and resulting tsunami.
The electricity and gas sector led overall gains in Tokyo's market.
Overall, Tokyo stocks rose Wednesday, after a smaller-than-expected fall in May US retail sales data, as investors' concerns eased over a slowdown in the world's largest economy.
The 225-issue Nikkei Stock Average advanced nearly a third of point Wednesday, while the broader Topix was up 0.22% to 825.65.
FOLLOW THIS TOPIC