China and India's trade with Africa
In a series of reports, CNN's Marketplace Africa looks at China and India's growing involvement in Africa, and what that means for the continent's economic future.
(CNN) -- China and India have been rapidly forging new economic partnerships in Africa.
Two-way trade between China and Africa reached a record $114.8 billion last year, according to Chinese officials.
India's bilateral trade with Africa has grown from around $1 billion in 2001 to about $50 billion last year, with India targeting a figure of £70 billion by 2015.
But Africa is by no means homogenous, and different countries offer different opportunities for the Asian economies.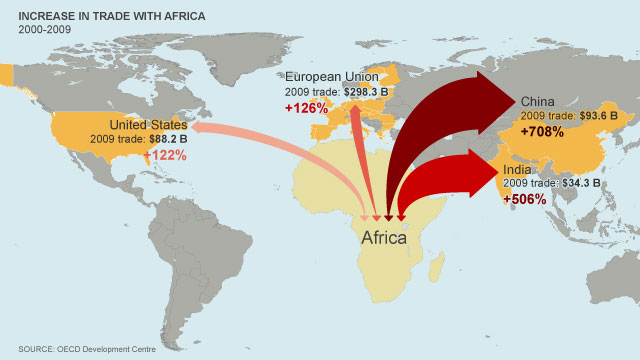 Africa's imports and exports
Some are viewed as sources of raw materials for export, some as potential markets for Chinese and Indian products and services, and others a combination of the two.
Highlighted are some of China and India's major trade partners in Africa. Click on each country for more information.