STORY HIGHLIGHTS
China and India building new partnerships with African countries
China now Africa's biggest trade partner, India targets $70 billion trade with Africa by 2015
Both countries seek resources, new markets
"This is a marvelous opportunity" for Africa, says analyst
In a series of reports, CNN's Marketplace Africa looks at China and India's growing involvement in Africa, and what that means for the continent's economic future.
(CNN) -- China and India, Asia's two emerging powerhouses, have made no secret of their desire to engage with resource-rich Africa as they seek new economic partnerships to fuel their booming economies.
With ties to the continent that already go back decades, the two Asian giants have been ratcheting up their investment push into Africa in recent years as they look to forge new trade routes and expand on existing alliances.
"They are seeing Africa as an opportunity, rather than a liability or a beggar," says Sven Grimm, the director of the Centre for Chinese Studies at Stellenbosch University in South Africa.
"They're here to invest and to seek opportunities for their companies and the rationale inside that is that if we exploit these opportunities that will help Africa: whether it does, that's the question."
From drilling oil in Angola to building state-of-the-art hospitals in Congo and from selling furniture in South Africa's markets to erecting flamboyant football stadiums in Sierra Leone, China's deepening engagement with Africa has been rapidly shaping the continent's landscape -- as well as its efforts for economic development.
Already Africa's largest trade partner, China's economic cooperation with the continent has shot up in recent years -- two-way trade between the two surged to a record $114.8 billion last year, according to Chinese officials.
Linking aid, trade and investment, Beijing's business model in Africa involves building extensive infrastructure projects and granting loans in exchange for access to natural resources, trade opportunities and expansion into new markets.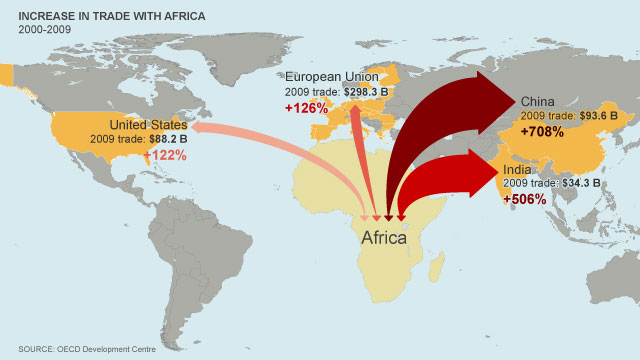 Africa's imports and exports
But as China is cutting a swath through Africa, while grabbing headlines along the way, India is also moving to take a more central role in the continent.
Stepping from the shadow of its big Asian neighbor, New Delhi has lately started making decisive strides to extend its economic footprint on the continent. In May's landmark India-Africa Forum Summit, the second since 2008, India announced a $5 billion loans package to Africa as well as $700 million for new institutions and training programs.
"This is showing that the Indian government is very serious about Africa," says Arvind Mahajan, head of energy and natural resources at consultancy firm KPMG in Mumbai.
"A much more proactive role from the Indian government, with investment, will go further in terms of improving India's longer-term interest in creating a partnership with African countries, both from a market as well as resource opportunity," he adds.
Increasingly, Indian companies are re-discovering Africa as a resource area.
--Arvind Mahajan, KPMG, Mumbai
Led by a vibrant private sector, India's bilateral trade with Africa has grown rapidly in recent years -- from around $1 billion in 2001 to about $50 billion last year, while the country's officials are now targeting a figure of $70 billion by 2015.
Like China, resource-hungry India is turning to Africa as it seeks to diversify its energy supplies in order to support its booming economy.
"Increasingly, Indian companies are re-discovering Africa as a resource area," says Mahajan. "What India has been finding as a challenge, as it's been growing rapidly, has been that domestic coal sources are not sufficient to meet its growth rates -- within the next five years, perhaps it will need to import more than 200 million tons of coal, so they are looking to diversify with presence in Africa, in Mozambique and other countries," he adds.
Apart from coal, which is India's main source of energy, India is also interested in oil. According to the International Energy Agency, India, which currently relies on the Middle East for two-thirds of its oil, will have to import 90% of its petroleum by 2025.
As a result, state-owned Indian oil companies have been active in countries like Nigeria and Sudan. Analysts, however, note that India is facing serious challenges in winning the oil battles against the wealthy, state-run Chinese energy giants.
"Head-on competition for natural resources, particularly oil and gas, hasn't really been too successful for India," says Alex Vines, head of the Africa program at London-based think tank Chatham House.
"Its diamond and coal diplomacy has certainly been more successful," he adds, noting that India is also looking at accessing uranium across Africa for its civil nuclear program. "The re-opening of the Indian High Commission in Malawi and the opening of an Indian embassy in Namibia are indicative of that," says Vines.
It's also about exposing Chinese companies to the world markets and it's also about market access in Africa.
--Sven Grimm, Stellenbosch University, South Africa.
Although raw materials remain at the forefront of both China and India's strategies in Africa, their interests extend beyond natural resources. For the two Asian behemoths, Africa, home to around one billion people, is a vast continent offering opportunities in a wide array of sectors -- manufacturing, telecommunications, services, and infrastructure.
Grimm says that both countries are trying to build on areas where they feel their strengths are.
India is keen to develop its expertise in information technology, medicine production and automobiles. Tata Group, India's leading investor in Africa with operations in 11 countries, last month opened a vehicle assembly plant in South Africa.
China's inroads in Africa are also about generating business. Grimm says the quest for raw materials is undoubtedly one of Beijing's drivers, but it's not the only one.
"It's also about exposing Chinese companies to the world markets and it's also about market access in Africa, finding new markets for Chinese products and upgrading Chinese production in that course or by that means -- it's an outlet for mass production and manufacturing," he says.
China and India's expanding partnerships with Africa could present the continent with a significant opportunity for growth and economic transformation if they are used wisely, analysts say.
Ultimately, they argue, it depends on the vision of African leaders and the strength of the continent's institutions to shape China and India's engagement for the benefit of African people.
"This is a marvelous opportunity where wise visionary leadership can extract better value to these countries to rid themselves of poverty and become middle income," says Vines. "Who knows how long this window lasts?"
FOLLOW THIS TOPIC