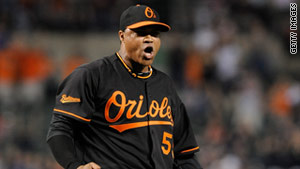 Baltimore Orioles pitcher Alfredo Simon said the shooting was an accident.
STORY HIGHLIGHTS
Simon's lawyer, Carlos Olivares, says a "preliminary" report absolves his client
"The ballistics tests have been favorable," he says
Police express skepticism
Santo Domingo, Dominican Republic (CNN) -- A "preliminary forensics report" absolves Baltimore Orioles pitcher Alfredo Simon in the New Year's killing of a man in the northern coastal town of Luperon, his lawyer said Tuesday, but police expressed skepticism.
"The ballistics tests have been favorable," lawyer Carlos Olivares told CNN in a telephone interview. "We are waiting for the formal report."
Olivares said he did not have a copy of the "extra-official" report, but had received word of its conclusion from a "trusted source." He predicted it will be released officially soon.
On Tuesday, he appealed Monday's decision by the judge in the case to hold his client for a year. "We know that he had nothing to do with this victim," the lawyer said.
The news of the ballistics results was met with skepticism from police. "It's possible, but it's very early," said Sgt. Hermosin de los Santos with the Preventive Police in Puerto Plata. Such cases usually take six months to investigate fully, he said.
Earlier in the day, a prosecutor predicted Simon would be held for the next year, during which the prosecution would prepare its case against the athlete.
Puerto Plata Province Assistant District Attorney Juan Carlos Hernandez said that, given the overcrowding in Puerto Plata's penitentiary, Simon may be taken to another facility. "The high number of inmates is too high, so we might have to make some space," Hernandez said.
Authorities have three months to prepare any indictment, but "the prosecution is going to pursue the indictment as soon as possible," he said. The Forensics Institute in Santo Domingo will collect and review ballistics evidence, he added.
"We will return to the crime scene to gather more evidence," he said.
Simon surrendered himself and his weapon Monday to Dominican National Police and was jailed in the northern town of Puerto Plata after being accused in the shooting death of 25-year-old Michael Esteban Castillo.
Simon is also accused of wounding Castillo's 17-year-old brother, Starlin.
Lawyer Olivares said shooting in the air in celebration of the new year is a common practice here and that Simon was one of many who did so. "A group of 14, 15 people shot up in the air, including my client," he told reporters. "So, they planted the thesis that it could have been him."
Assistant D.A. Hernandez said Monday of Simon, "So far he's the one. There's no doubt about the incident." He did not immediately return a call seeking reaction to the lawyer's claim.
Simon, 29, hails from Santiago, about an hour south of Puerto Plata. He joined the Orioles in 2008.
The Baltimore Orioles have not commented publicly.
CNN's Tom Watkins and journalists Jorge Pineda and Diulka Perez contributed to this report.
FOLLOW THIS TOPIC