Prosecutor: Meteorologist charged with falsely reporting attacks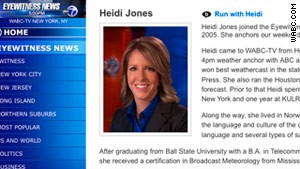 Heidi Jones, who weather reports for WABC-TV, has been suspended by the station pending an internal investigation.
STORY HIGHLIGHTS
NEW: Heidi Jones attorney: She was interrogated without defense counsel, Miranda rights
NEW: District attorney spokeswoman declined to comment on those allegation
The meteorologist for WABC-TV made up two assault reports, officials say
New York (CNN) -- An on-air meteorologist for a New York TV station has been formally charged with making up a story she told police about being the victim of two attacks, according to a criminal complaint filed Wednesday by the Manhattan district attorney's office.
Heidi Jones, who does weather reports for WABC-TV, was charged with two misdemeanor counts of false reporting carrying a sentence of up to a year in prison if convicted.
"I made it up for attention," Jones said, claiming that she was suffering from stress at work and in her personal life, according to the complaint.
Her lawyer, Paul Callan, said a "frenzy of media coverage" has vilified his client and that she intends to fight the charges.
"Although the criminal complaint alleges in substance that Heidi Jones admitted to having filed a false complaint, we intend to vigorously contest the accuracy and legal admissibility of the so-called confession," he said in a written statement Wednesday.
Callan says Jones was interrogated by police without the presence of defense counsel, also saying that police never administered Miranda warnings as required by law.
District attorney spokeswoman Erin Duggan declined to comment in response to Callan's allegations .
Jones allegedly told police that she was attacked while jogging in New York's Central Park on September 24 and then again in front of her apartment on November 21, the complaint said.
She said her attacker was the same man in both instances, it said. She described him as a Hispanic male in his 30s.
Police said Jones, who was been suspended from her job pending an internal investigation, later recanted the story and was arrested on December 13, according to the complaint.
She is expected back in court on March 16.