STORY HIGHLIGHTS
NEW: "God has more important things planned for her," a longtime adviser says
NEW: The suspect's former teacher says, "I was scared of what he could do"
Gabrielle Giffords' ability to communicate is encouraging, a doctor says
Federal authorities have leveled murder and attempted murder charges against the suspect
Follow the latest developments on CNN's "This Just In" blog. Share your accounts, images from the shooting with CNN iReport. For more information visit CNN affiliates KGUN, KOLD, KVOA, KPHO and KMSB.
Read the charges against Jared Lee Loughner (PDF)
Tucson, Arizona (CNN) -- Arizona congresswoman Gabrielle Giffords can follow simple commands from doctors after being shot through the head at a meeting with constituents, and a longtime adviser said Sunday he is confident she'll survive her wound.
"The doctors are pretty clear that we just have to wait and see," Mike McNulty told CNN in an exclusive interview. But he added, "I can only think that God has more important things planned for her in the future."
Giffords, a three-term Democrat, was among the 20 people shot at a constituent open house in Tucson on Saturday. Six of them, including a federal judge, were killed, and federal authorities have leveled murder and attempted murder charges at a 22-year-old former community college student who posted online screeds about government mind control.
After the local sheriff's Saturday night warning that the kind of "vitriolic rhetoric" often heard in politics risked setting off "unbalanced people," the horrific scene at the Safeway fueled talk-show debate Sunday morning.
Giffords remained in critical condition after being shot through the left hemisphere of her brain with a 9mm pistol. But Dr. Michael Lemole Jr., chief of neurosurgery at University Medical Center in Tuscon, said doctors were "very encouraged" by the fact that she was responding to commands.
Dr. Randall Friese, a UMC trauma surgeon, said he asked Giffords when she arrived at the hospital if she could squeeze his hand.
"She gave me a great big squeeze ... I felt very confident that she was able to process my request and carry it out," he said.

Sheriff criticizes political vitriol

Boehner: 'Inhuman act' will not stop us

Timeline of Arizona mass killing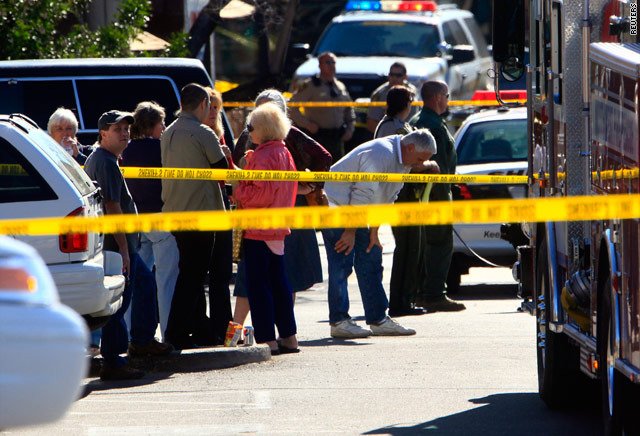 Gallery: Shooting at Giffords event
Swelling of the brain is the biggest threat Giffords faces, Lemole said. Doctors removed part of her skull during surgery in order to keep the brain from pressing against it if it swells, but the bullet's front-to-back trajectory did not do as much damage as a shot that crossed from one hemisphere to the other would have, he said.
Authorities said the suspect, 22-year-old Jared Lee Loughner, was tackled by two men when he tried to reload his pistol -- while a woman in the crowd, Patricia Maisch, took away the fresh magazine Loughner had dropped.
"He pulled the magazine out of his pants pocket and it dropped onto the sidewalk. And before he could reach it, I got it," Maisch told CNN. "I just reacted. I didn't have an opportunity to think."
Asked about people calling her a hero, she said, "The two men that secured him were the heroes. I just was an assistant in being able to get that magazine or clip."
One of those two men, Joe Zamudio, said, "Nobody really kind of realized the massiveness of what happened."
"It was so surreal. You don't believe what's really happening in front of you. People are really dying," Zamudio said. "As the police took him away, I looked up and it was just -- it hit me like a ton of bricks. All these people that were wounded, and all these people's lives were changed in an instant."
He said the gunman was already on the ground when he got there.
"I laid on him and held him down, and made sure the gun was down," Zamudio said. The "real hero" was the man who grabbed the gunman first, he said.
Loughner faces two counts of murder, two counts of attempted murder and one count of attempting to kill a member of Congress -- all stemming from the shootings of federal employees at the scene. One member of Giffords' staff was killed and two more were wounded, while the gunfire also claimed the life of Arizona's president federal district judge, John Roll.
In addition to Giffords, nine other patients remained hospitalized, UMC said -- three in serious condition and six in fair condition. The other wounded transported themselves to other hospitals.
The suspect had railed against government "mind control" and illiteracy in online missives and had "kind of a troubled past," Pima County Sheriff Clarence Dupnik said. Loughner was not talking and had invoked his right against self-incrimination, he said.
Loughner is a former student at Pima Community College, and voluntarily withdrew from the school in October after being suspended, the college said in a statement. One of his instructors, Ben McGahee, said Loughner sometimes shook, blurted things out in class and appeared to be under the influence of drugs at times.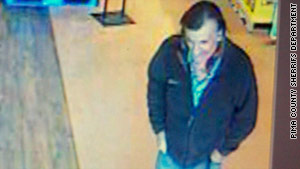 Authorities released a photo of a second man "possibly associated with the suspect."
"I was scared of what he could do," McGahee said. "I wasn't scared of him physically, but I was scared of him bringing a weapon to class."
McGahee said he had Loughner removed from his class after less than a month, and said he was not surprised to hear his former student was the suspect in Saturday's bloodbath.
"This guy was mentally disturbed. He was very isolated," he said.
In addition to Roll, the dead included 30-year-old Gabe Zimmerman, a Giffords staffer who was engaged to be married; 76-year-old Dorwin Stoddard, who was fatally shot in the head while trying to shield his wife; 76-year-old Dorothy Morris; Phyllis Scheck, 79; and a 9-year-old girl, Christina Taylor Green, who was born on September 11, 2001.
"It does say something about our society that our daughter was born on a tragic day and taken out on a tragic day," her father, John Green, told CNN.
Christina's father is a scout for the Los Angeles Dodgers; her grandfather, Dallas Green, won a World Series as manager of the Philadelphia Phillies. She was one of the few girls who played on the Canyon del Oro Little League, and had just been elected to her school's student council.
In Washington, flags at the White House and the Capitol were flown at half-staff in honor of those killed. President Barack Obama has called for a national moment of silence at 11 a.m. Monday to honor the victims.

Alleged shooter to be formally charged

Who is Gabrielle Giffords?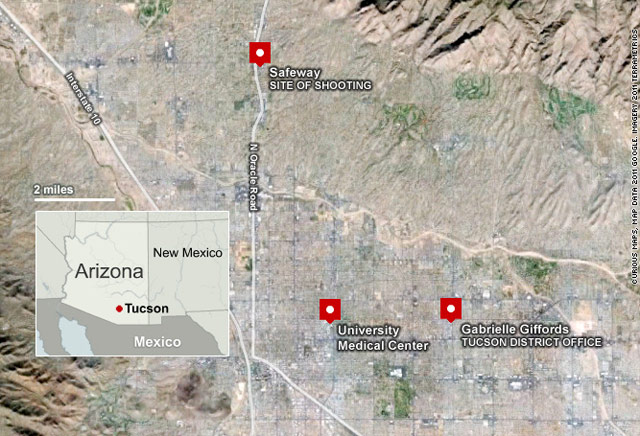 Map: Tucson, Arizona shooting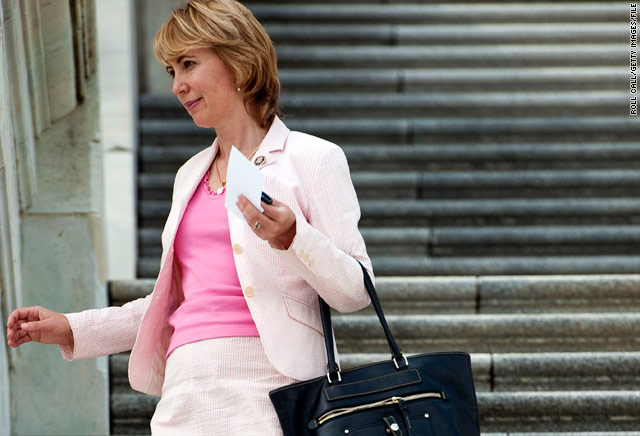 Gallery: Rep. Gabrielle Giffords
Giffords won her third term in November in a closely contested race against a Tea Party-backed Republican candidate. She was one of three Democratic legislators who reported vandalism at their offices following the March passage of the Obama administration's sweeping health-care law, and Dupnik suggested Saturday night that "vitriolic rhetoric" in political debates could have deadly consequences.
"When you look at unbalanced people, how they respond to the vitriol that comes out of certain mouths about tearing down the government, the anger, the hatred, the bigotry that goes on in this county is getting to be outrageous. Unfortunately, Arizona, I think, has become sort of the capital," he said. "We have become the mecca for prejudice and bigotry."
The debate kicked off by Dupnik's remarks spilled over onto the talk-show circuit Sunday morning, where several lawmakers called for cooling the language of politics.
"We live in a world of violent images and violent words, but those of us in public life and the journalists who cover us should be thoughtful in response to this and try to bring down the rhetoric which I'm afraid has become pervasive in our discussion of political issues," Sen. Dick Durbin, D-Illinois, told CNN's "State of the Union."
Sen. Lamar Alexander, R-Tennessee, told CNN, "We have to be very careful about imputing the motives or the actions of a deranged individual to any particular group of Americans who have their own political beliefs." But he added, "We ought to cool it, tone it down, treat each other with great respect, respect each other's ideas and even on difficult issues like immigration or taxes or health care law, do our best not to inflame passions."
McNulty said Tea Party members held rallies outside Giffords' offices "that seemed designed to intimidate her staff, which simply doesn't seem very American to me."
"There was a level of vituperation that no one has ever seen, and there was, you know, the famous incident of people showing up with handguns and losing control of handguns that just fall in the street and brandishing handguns," he said.
He added, "That's where the Tea Party, I think, went over the edge. They thought it was fun to talk about using your firearms to solve political problems, and I don't think that's fun."
Tea Party advocates have condemned Saturday's shootings.
"These heinous crimes have no place in America, and they are especially grievous when committed against our elected officials," said Amy Kremer, chairman of the Tea Party Express.
"Spirited debate is desirable in our country, but it only should be the clash of ideas," she said.
CNN's Drew Griffin, Casey Wian, Jessica Yellin, Susan Candiotti, Jeanne Meserve and Dana Bash contributed to this report.
FOLLOW THIS TOPIC