Fort Hood suspect awaits decision on whether he is fit to stand trial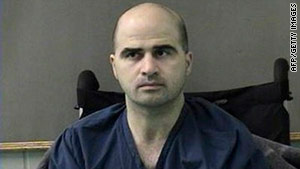 A report by mental health experts will determine whether Nidal Hasan will face a court martial.
STORY HIGHLIGHTS
Mental health evaluation of Maj. Nidal Hasan is complete
It is not yet known whether he was found competent for trial
He is accused of killing 13 people and wounding 32 others in the 2009 attack
Washington (CNN) -- A mental health evaluation of the Fort Hood shooting suspect has been completed -- the next to final step in determining whether Army psychiatrist Maj. Nidal Hasan is fit to stand trial, according to a Fort Hood spokesman.
Fort Hood public affairs officer Christopher Haug confirmed that the mental evaluation had been delivered to prosecutors, the defense lawyers, and to Col. Morgan Lamb, the senior military officer who must decide whether the case will move to a court martial.
The key question is still unknown: whether the report found that Hasan is competent to stand trial.
Hasan is charged with killing 13 people and wounding 32 in November 2009 at a soldier processing center on Fort Hood, the nation's largest military base.
Mental health experts had to submit their report on Hasan by the end of the week. Their determination on competency -- as well as his state of mind at the time of shootings -- could clear the way for Hasan to face a court martial and possible death penalty.
This latest legal milestone in the case comes just days before a Senate committee is set to release a report about still-secret intelligence and Army information about Hasan. The Senate Homeland Security and Governmental Affairs Committee will also hold a hearing about whether the government could have, but failed, to prevent the shootings.
The panel of mental health experts appointed by the Army spent several days in early December evaluating Hasan at the local civilian jail where he is held near Fort Hood.
Witnesses at a preliminary hearing in November identified Hasan in the courtroom as the man they heard shout "God is great" in Arabic before opening fire with a handgun. He fired more than 200 rounds before he was shot by police. He is partially paralyzed, from the chest down, and uses a wheelchair.
Hasan's defense attorney, former military judge John Galligan, has been highly critical of how the government has pursued the case and has complained that he has been denied government documents vital to defending his client.
Galligan claims that the government failed to act even after intelligence agencies had advance knowledge that Hasan was communicating with Muslim radicals overseas. Galligan also says that Hasan's Army superiors turned a blind eye to his behavior when they evaluated his professional performance and promoted and transferred him.