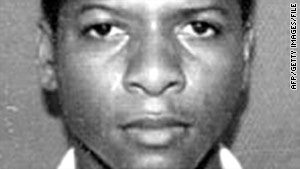 Ahmed Khalfan Ghailani, 36, could be sentenced to life behind bars for attacks that killed 24 people in Africa.
STORY HIGHLIGHTS
Ahmed Khalfan Ghailani faces sentencing Tuesday
He was convicted in connection with the 1998 U.S. embassy bombings
He faces a minimum of 20 years in prison, but could be handed a life sentence
New York (CNN) -- A former bodyguard and cook for Osama bin Laden faces sentencing Tuesday after he was acquitted on all but one charge in connection with the 1998 U.S. embassy bombings in Kenya and Tanzania
More than a decade later, Ahmed Khalfan Ghailani could face life behind bars following a landmark case that made him the first Guantanamo detainee tried in U.S. civilian court.
The 36-year old Tanzanian was convicted by a federal jury in November on a single conspiracy charge to destroy buildings and U.S. property in a pair of attacks that killed 224 people, including 12 Americans.
He faces a minimum of 20 years in prison, but could be handed a life sentence, according to a statement from the U.S. attorney's office for the Southern District of New York.
U.S. Attorney Preet Bharara said he would seek the maximum sentence of life without parole.
The defense called no witnesses, and the defendant did not take the stand.
The trial, once considered a testing ground for the Obama administration, which says it can try some terrorism suspects in civilian courts, coincides with both the president's State of the Union address and reports of a possible increase in the use of military commissions.
At the onset of the trial, U.S. District Judge Lewis A. Kaplan barred testimony from a key witness that prosecutors said could provide evidence of Ghailani's involvement in the bomb plot after learning of his coerced interrogation at CIA-run detention facility.
The move raised questions about future convictions in the murky world of clandestine information gathering, widening the debate over the use of civilian courts for detainees, including alleged 9/11 mastermind Khalid Sheikh Mohammed.
"When it came to the issue of torture, the court clearly ruled against it," said Dixon Osburn, director of the law and security program at Human Rights First. "Even with that, the jury got a conviction."
By contrast, Rep. Peter King, R-New York, said he was "disgusted at the total miscarriage of justice" in Manhattan's federal civilian court.
King, who is the House Homeland Security Committee chairman, blamed Attorney General Eric Holder for the trial's outcome.
"He assured us that 'failure is not an option,' " King said in a written statement.
The prosecution, which made its closing arguments November 8, had accused Ghailani in a total of 285 counts of conspiracy and terrorism-related charges.
Jurors listened to weeks of testimony from witnesses who were flown in from Kenya and Tanzania to testify, while jurors reviewed dozens of government exhibits.
Throughout the trial, the defense portrayed Ghailani as a man with local knowledge of Tanzania who was exploited by al Qaeda.
The government rejected the claim that Ghailani was duped into participating, pointing to evidence that he obtained gas tanks in Tanzania and noting his presence in Mombasa, Kenya, with members of the bomb plot.
But during court proceedings, jury members showed signs of division.
Kaplan rejected a defense plea for a mistrial after one juror claimed to have been chastised by fellow jurors for disagreeing with their conclusions.
The judge read aloud a note that he received from the juror, who asked to be "excused or exchanged," later telling defense attorneys that the incident was not grounds for a mistrial.
Ghailani was captured in Pakistan in 2004 and later moved to the U.S. Naval base in Cuba.
Tuesday's sentencing in New York is scheduled to begin at 11 a.m. ET.
FOLLOW THIS TOPIC