Mexico working to extradite 'Survivor' producer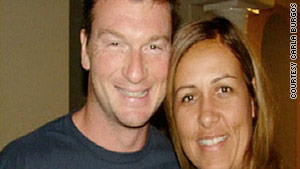 Bruce Beresford-Redman, left, is accused of killing his wife, right, and dumping her body at a Cancun, Miexico, resort.
STORY HIGHLIGHTS
A former "Survivor" producer is charged with killing his wife in Mexico
Investigators believe he struck her head, then strangled her
Mexico filed its extradition request this week
(CNN) -- Mexican investigators believe reality TV producer Bruce Beresford-Redman struck his wife's head with a stick, bat or metal tube before strangling her and dumping her body at a Cancun resort last year, according to documents filed this week in his extradition case.
Beresford-Redman, who was once a producer on TV's "Survivor," is in jail in Los Angeles while he fights extradition from the United States to Mexico. Prosecutors in Cancun want to try him for the murder of his wife, Monica Burgos Beresford-Redman.
Monica Beresford-Redman's sisters, Carla and Jeane Burgos, issued a written statement through their lawyer saying the extradition filing "marks another sad chapter in the senseless murder of their beloved sister."
"While we are comforted to learn that the United States government is honoring its treaty with Mexico, we know that the extradition process may be a long one," the statement says.
The summary of the investigation filed in federal court in Los Angeles includes previously unreleased details of the probe.
Investigators said the suspect had scratches on his fingers, neck, ear and leg and it "could be inferred that they were inflicted during a brawl," the summary says.
A concierge at the Moon Palace Resort told investigators that when she called Beresford-Redman about noise complaints from a neighboring room, he explained he was arguing with his wife about their two children's behavior, the document says.
He reported his wife missing later that night and she was found floating in a resort sewage tank a few days later, the filing says.
The summary of the autopsy says she suffered a head wound that could have been made by a strike from "a metal tube, a bat or a stick." It also appeared that she fell in a bathtub, it says.
A Mexican judge signed an "aggravated homicide" warrant last May accusing Beresford-Redman of killing his wife "by asphyxiating her" at the resort on April 5.
The paperwork then wound its way through law enforcement and diplomatic channels and he was arrested at his Rancho Palos Verdes, California, home in November.
Alison Triessl, a lawyer helping Monica Beresford-Redman's sisters, told HLN's Jane Velez-Mitchell that the family is pleased with the Mexican investigation.
"It's been a long struggle," Triessl, said adding she believes the suspect will be extradited.
FOLLOW THIS TOPIC