Georgia man charged with sons' murder after accusing another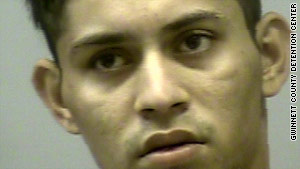 Elvis Noe-Garcia is charged with two counts of murder in the slayings of two of his children.
STORY HIGHLIGHTS
Elvis Noe-Garcia is charged with murdering 2 sons and assaulting a third
On Wednesday, he accused another man of the murders
Man who was first accused was with the mother of the 3 children
(CNN) -- Three days after accusing another man of his young sons' killings, a Georgia man has been charged with the boys' murder, police said Saturday.
"As far as what was in his mind during the attack, I can't say specifically," Gwinnett police Cpl. Jake Smith told reporters late Saturday afternoon. "The whole story involving the involvement of (the earlier suspect) was entirely fabricated."
Elvis Noe-Garcia had multiple stab wounds when he first talked with police in the town of Lawrenceville in Atlanta's northern suburbs, after they found his 1-year-old and 3-year-old sons fatally stabbed inside their home. Another 3-year-old son was sent to an area hospital after being injured, according to a statement Saturday from the Gwinnett County Police Department. CNN affiliate WSB reported family members said the 3-year-olds are twins.
Noe-Garcia had told authorities that Antonio Cardenas-Rico had assaulted him and his children, saying he'd escaped the attack and fled to a neighbor's house. Since he was considered a "viable suspect," according to police, Cardenas-Rico was quickly apprehended and charged.
According to Smith, Noe-Garcia is the children's biological father but not married to their mother. The children's mother was with Cardenas-Rico at the time of the killings.
"There has been some kind of ongoing domestic dispute between the three of them involving custody of the children," Smith said.
Cardenas-Rico denied any involvement in or knowledge of the attacks after being accused, according to police, and offered an alibi. Meanwhile, homicide investigators noted "discrepancies" and, over three days, worked "to piece together the circumstances surrounding the crime," the Gwinnett County release said.
After critically reviewing Noe-Garcia's statements, recreating the crime scene, reinterviewing witnesses and digging deeper into the physical evidence, police concluded that the father had killed two of his sons and severely injured the other.
On Saturday, Noe-Garcia was charged with two counts of murder and one count of aggravated assault. He is also being held on an immigration hold.
Murder charges have been dismissed against Cardenas-Rico, though he remains in custody on drug charges, for possession of marijuana with intent to distribute, and on an immigration hold, according to Gwinnett County police.
FOLLOW THIS TOPIC