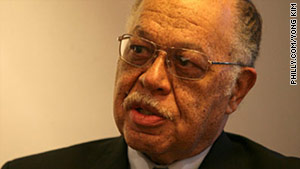 Dr. Kermit Gosnell is being held without bail on eight murder counts.
STORY HIGHLIGHTS
Pennsylvania governor fires state employees
He terms oversight of abortion clinic "despicable"
Seven who worked at abortion clinic face charges
Gov. Tom Corbett orders changes at two agencies
Philadelphia, Pennsylvania (CNN) -- Calling state oversight of an abortion clinic where at least one mother and seven viable babies died "despicable," Pennsylvania Gov. Tom Corbett fired a half-dozen employees and announced changes Tuesday in two departments.
The Department of Health and the Department of State have primary oversight over such clinics.
"This doesn't even rise to the level of government run amok. It was government not running at all. To call this unacceptable doesn't say enough. It's despicable,'' Corbett said.
Seven employees from the Department of Health, as well as the Bureau of Professional and Occupational Affairs, a branch of the Department of State -- are no longer employed by the state, having either resigned or been terminated since the situation came to light, Corbett said in statement.
In addition, four other former employees named in the grand jury investigation had previously resigned.
Dr. Kermit Gosnell is being held without bail on eight murder counts and a host of other charges. Arraignment is set for March 2.
Philadelphia District Attorney Seth Williams earlier called the facility "a house of horrors" that performed "botched and illegal abortions" and was full of containers of fetuses' body parts.
"While my office is addressing the criminal activity charged in this case, Gov. Corbett's leadership is holding people within state government accountable, and making critical changes to protect the health, welfare and safety of our citizens," Williams said in a statement Tuesday after Corbett's announcement. "Hopefully, women across the Commonwealth will be better protected because of his actions."
Six other defendants face charges. All had some role at the Women's Medical Society clinic, which was run by Gosnell and served mostly low-income minority women, Williams said.
A grand jury investigation determined that health and licensing officials had received repeated reports about Gosnell's practices for two decades, but taken no action -- even after learning that women died during routine abortions -- Williams has said.
Corbett announced changes in the Department of Health and Department of State, including new controls and conditions "designed to protect the health and safety of women who use these facilities in the future." Changes include cross-checking files, establishing searchable databases of inspections, improving training, making correction plans and inspecting abortion clinics annually.
The district attorney alleges seven babies born alive in the sixth, seventh and eighth months of their mothers' pregnancies were killed at the Women's Medical Society practice with scissors used to cut their spinal cords.
"Untrained personnel performed medical procedures, sometimes using unsterilized implements that spread venereal disease from patient to patient," Corbett said.
Gosnell's attorney, William Brennan, recently stressed that his client should be "presumed innocent."
Besides seven first-degree murder charges related to those infants' deaths, Gosnell is charged with third-degree murder in the death of 41-year-old Karnamaya Mongar. She died November 20, 2009, after overdosing on anesthetics prescribed by the doctor, Williams said.
"It will be up to a jury to decide Dr. Gosnell's guilt or innocence. It is up to me to decide how to stop such horrors from taking place again,'' Corbett said.
CNN's Sarah Hoye contributed to this report.
FOLLOW THIS TOPIC