13 killed in clash on Mexico-U.S. border lake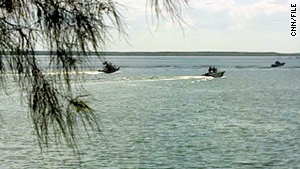 Officials search Falcon Lake, Texas, for the body of American David Hartley in 2010.
STORY HIGHLIGHTS
Mexico's Navy says a shootout occurred around an island used to store marijuana
Twelve suspected members of the Zetas drug gang and one member of Mexico's Navy are killed
Falcon Lake is between Texas and the Mexican state of Tamaulipas
It drew attention last year after an American was reportedly shot there
(CNN) -- Twelve suspected members of the Zetas drug gang and a member of Mexico's Navy were killed in a shootout on an island in a lake that straddles the U.S.-Mexico border, authorities said Monday.
The Mexican Navy said the shootout occurred Sunday on Falcon Lake, located between Texas and the Mexican state of Tamaulipas, after troops patrolling the area spotted a camping area on an island.
The suspected drug traffickers used the island for storing marijuana to be transported by boat to the United States, the Navy said in a statement.
After the shootout, the Navy said it seized guns, ammunition and bullet-proof vests from the island.
Falcon Lake drew the attention of law enforcement authorities on both side of the border last September after an American man on a personal watercraft was reportedly ambushed by attackers and shot in the head.
2010: 'He took a bullet for me,' Falcon Lake victim's wife says

Falcon Lake mystery remains unsolved
Tiffany Hartley told police that she and her husband were riding water scooters on the lake on September 30 when they were attacked.
Her husband's body has not been found, and the case has remained unsolved.
"It didn't happen in the United States," said Zapata County, Texas, Sheriff Sigifredo Gonzalez.
Suspects in Falcon Lake killing identified
And Mexican authorities, he told CNN last month, have "somewhat of a zero solvency rate, and a zero conviction rate."
"So unfortunately, this case may remain open forever, even though the information and the evidence may be there," according to Gonzalez.
FOLLOW THIS TOPIC