DA: One indicted in suspected terror plot against New York synagogue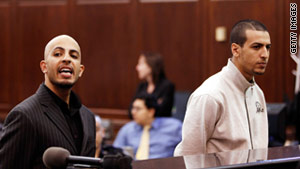 Ahmed Ferhani, left, and Mohamed Mamdouh stand during their arraignment in Manhattan Criminal Court on May 12.
STORY HIGHLIGHTS
Two men were arrested last week in what police said was a terror plot
The two planned to blow up a New York City synagogue, police said
A grand jury indicted one of the men Tuesday; both are due in court on June 2
New York (CNN) -- One of two men arrested in an alleged terror plot to blow up a New York synagogue was indicted Tuesday in Manhattan Criminal Court, according to a spokeswoman for the district attorney's office.
Ahmed Ferhani, 26, was charged last week by the Manhattan state attorney in connection with an alleged plot to attack an unspecified synagogue.
Ferhani was formally indicted by a grand jury Tuesday on charges including terror conspiracy, hate-crime conspiracy, weapons possession and attempted possession of a weapon as a crime of terrorism, according to Erin Duggan, spokeswoman for the Manhattan district attorney's office.
Co-defendant Mohamed Mamdouh was assigned new counsel Tuesday and is expected to be indicted on June 2, when both men are scheduled to appear in court again.
The two suspects were arrested Thursday in Manhattan, with authorities saying the arrests marked the end of a seven-month undercover operation by New York police officers.
The two were detained after buying two loaded semiautomatic pistols, a revolver, ammunition and a grenade, according to Police Commissioner Ray Kelly.
At least a dozen police officers swarmed Ferhani, who was at the time placing the weapons in the trunk of his car, police said. Mamdouh was arrested on a nearby street moments later.
Ferhani, a 26-year-old unemployed resident of Queens, is a native of Algeria who traveled to the United States in 1995, claiming asylum.
Prosecutors said undercover officers secretly recorded conversations with Ferhani. They quoted him as saying, "Muslims are abused all over the world, and I ain't going to take it."
Prosecutors said Ferhani sold narcotics in an effort to finance the planned attacks. After his arrest, his defense attorney, Stephen Pokart, told Manhattan Criminal Court Judge Melissa Jackson that his client "hasn't committed any crime at all."
Mamdouh, 20, also a Queens resident, was previously arrested on a pending 2010 burglary charge. He worked for a local delivery service and came to the United States in 1999 with his family from Casablanca, Morocco.
Both men's voices were captured on audio recordings plotting the attacks but they had not selected a specific synagogue to target, District Attorney Cyrus R. Vance Jr. said after the arrests.
Neither man has been charged in connection with a terrorist cell. Both, however, allegedly were "committed to violent jihad," telling police that they wanted to kill Jewish people and also hoped to attack New York's Empire State Building, Vance said.
FOLLOW THIS TOPIC