Lawyer for alleged Fort Hood shooter makes case for no death penalty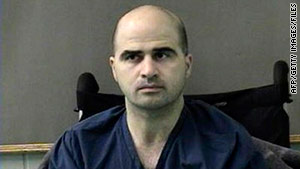 Maj. Nidal Hasan is charged with killing 13 people on November 5, 2009, at Fort Hood, Texas.
STORY HIGHLIGHTS
Army Maj. Nidal Hasan is charged in the 2009 shootings at Fort Hood
The shootings killed 13 people and wounded 32
Hasan's defense lawyer wants the death penalty possibility kept out of trial
Fort Hood's commander will decide specifics of a court martial
Washington (CNN) -- The Army could be close to announcing a court martial for Maj. Nidal Hasan, accused of the 2009 Fort Hood shootings, after his lawyer made one last attempt Thursday to keep the death penalty out of the trial.
Hasan is charged with killing 13 people at Fort Hood, Texas, and wounding 32 others in a lone-gunman shooting on November 5, 2009.
His defense lawyer, John Galligan, met with the Fort Hood commander, Lt. Gen. Donald Campbell, on Thursday afternoon. Campbell now will decide how the court martial will proceed and whether the military officers serving as jurors will be able to consider the death penalty.
"The law accepts life without the opportunity of parole as an appropriate punishment for murder," Galligan said. He described his meeting with Campbell as very cordial. "We had an opportunity to make our compelling argument that the (Hasan) case should be referred non-capital."
Galligan spoke with CNN in a telephone interview.
The meeting had been delayed from earlier in the month, according to a Fort Hood statement, "to ensure defense counsel can present all matters for consideration at the meeting." There is no deadline for Campbell to make his recommendation.
Galligan described the one hour meeting as cordial, with eight attorneys present including four from the Army, and Galligan and three others for the defense.
Galligan has insisted that a life prison term should be the most severe penalty under consideration and says a death penalty trial is more time-consuming and expensive.
"The best decision, the right decision, as hard as it might be ... is to make this a non-capital referral," Galligan said.
Hasan was partially paralyzed in the final shootout with police at the end of the attack and is in a wheelchair. He is being held in a local jail near Fort Hood, the country's largest military base.
Witnesses at a preliminary hearing in October pointed to Hasan in the courtroom and said he had repeatedly reloaded his handgun as he walked through a medical screening building and fired more than 140 times. Many of the victims of the shooting, as well as Hasan, were set to ship out shortly to Afghanistan.
Galligan also has complained that he cannot defend Hasan properly until the White House fully reveals what intelligence materials it had on Hasan before the Fort Hood attack, as well as what intelligence agencies knew about his overseas contacts, including with American-born Muslim radical Anwar al-Awlaki, now believed to be in Yemen and the target of American drone attacks.
A Senate report referred to Hasan as "a ticking time-bomb" and said both the FBI and the Army ignored multiple warning signs.
The Army disciplined nine officers for failing to warn of problems with Hasan before he was transferred to Fort Hood. There had been widespread questions about how Hasan was evaluated and promoted despite sometimes erratic behavior.
"There is a wake of collateral issues that need to be resolved before we ultimately decide the Hasan case," Galligan said in the telephone interview.
FOLLOW THIS TOPIC