STORY HIGHLIGHTS
Kelsey Emily Collins was first arrested for prostitution at age 16
Later, her mother realized her daugher had been caught up in a sex trafficking ring
A month after testifying in to a grand jury, Kelsey Collins disappeared
Sgt. Doug Justus says he fears she was killed because of her testimony
Portland, Oregon (CNN) -- Among the strung out addicts with zombie eyes and the beaten down prostitutes loitering by neon-lit entrances to adult video stores, Kelsey Emily Collins would have stuck out.
She was from out of town and too young to be where she was.
As she would later testify to a federal grand jury, a man 20 years older than her drove Kelsey 170 miles down Interstate 5 from Seattle to Portland's 82nd Ave.
There amidst the strip's seedy motels and lingerie stores where customers can buy backroom lap dances and more, the plan was simple: sell her to as many men as possible.
After that first night in January 2008 when she made about $1,000, all of which she later told investigators went to her pimp, Kelsey went right back to work as a prostitute.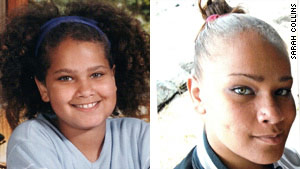 Emily Collins changed her name to "Kelsey" at age 7 when her mother left her abusive husband.
One night, police stopped her getting out of a customer's car.
Kelsey was 16 years old.
From the moment she was born, Sarah Collins, Kelsey's mother, said she had to fight to stay alive. Plagued with intestinal problems, she spent most of the first year of her life in the hospital.
It was pretty nervewracking. Sarah would later deny to her other three children that Kelsey was her favorite. But there was no point arguing it.
"Her older sisters always told me I treated her like the princess," Sarah said. "When you have a child that's that ill, you had a bond you can't disguise."
But life wasn't getting any easier.
Sarah and her children fled an abusive husband. They fled the state and changed their names. Sarah's ex-husband is serving a 20 year prison sentence for the abuse of her family and with another decade to serve, she feels like he's not an immediate threat.
Sarah's youngest daughter had been called Emily until age 7, but they changed her name when the family fled.
Now she was known as Kelsey.
She was a girl with two names and, as her mother would discover, two lives.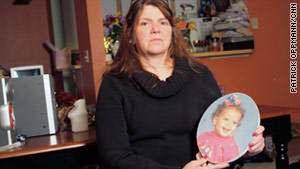 Sarah Collins says her daughter, who survived a serious intestinal illness when she was a baby, lived two separate lives.
"As soon as she hit puberty she started getting into trouble," Sarah said. "I thought she was going to be the one who was going to give me no trouble. Instead she did everything her sisters did times ten."
Related: CNN Freedom Project: Ending Modern-Day Slavery
At first Kelsey ran away to go to parties, her mom said, to drink and smoke. She totaled Sarah's car during a joyride.
After Kelsey stole a stranger's car to go to the mall, Sarah called the police.
"That's how she became involved in the juvenile system," Sarah said. "It was not helpful to her. She wouldn't come home so they'd put her in juvy or she wouldn't go to school and they'd put her in juvy. It was like a revolving door."
Then Kelsey was arrested for prostitution. Sarah was stunned.
"I spent too much time energy and money to keep you alive!" Sarah screamed at her daughter. "I am not going to let you throw your life away!"
Four years later she shakes her head at the memory of those fights.
"I missed all the signs." She said. "I didn't think she was being forced to do it."
Kelsey was silent about who or what made her sell her body. She was failing drug tests, absent from school and, Sarah believes she was in love with the same men who sold her to strangers.
Sarah saw signs of physical abuse. Kelsey denied her boyfriends were responsible and said the bruises and black eyes came from fights at school.
"When I went into court the fifth or sixth time she was picked up for prostitution and I am like, 'I don't know what to do!'" Sarah said. "'I am begging for some help here.'"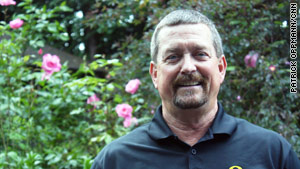 Sgt. Doug Justus says he believes Collins was killed for testifying before a federal grand jury against her alleged traffickers.
Sgt. Doug Justus was also looking for help when he arrived at the Collins home a month after Kelsey's Portland arrest.
Justus headed the Portland Police Bureau's vice squad. Although he had been a cop for over twenty years, Justus was a recent convert to the idea that police should target the men who were forcing young girls to sell themselves.
"People didn't any know better, there was no education, there was no training," he said. "It was 'real cops catch a bank robber."
But after seeing underage women manipulated into believing they loved the same men who beat them down and sold them again and again, Justus had a change of heart.
Sex trafficking, he says "is domestic abuse on steroids."
But prosecuting sex trafficking is another matter.
"It is very difficult, said Ernest Allen, the president and CEO of the National Center for Missing and Exploited Children.
According to Allen, trafficking in the United States is not as easy to spot as in other countries where victims are often held in bondage.
Allen said U.S. victims are commonly targeted for their emotional frailty and troubled home lives.
"In the US these are runaway, throwaway or homeless kids," Allen said "They feel a misplaced loyalty and fear for their safety. This is organized crime."
Allen said even if sex slavery isn't as visible in the United States, victims here pay a terrible price, forced to turn over their earnings to alleged pimps and enduring beatings.

Kristof: Keep the spotlight on slavery

In Depth: Freedom Project

Campaign unmasks child sex trade

Stopping trafficking at Nepal's border
Over the last eight years, Allen said a partnership with his organization and law enforcement has led to the conviction of 700 pimps and the rescue of 1,600 kids who were sexually trafficked.
Underage prostitution, Justus said, attracts hardened criminals out of simple economics.
"You can only sell the drugs once, these girls you can sell over and over," he said.
To reach Kelsey, Justus took a different approach than police had in the past; he told her she was a victim.
"It took her a while because she hadn't heard that before," he said.
Gradually Kelsey opened up to the detective about the man who sold her in Portland.
"He bought her clothes, got her condoms, taught her what to do, how to do it," Justus said. "Everything. And he kept every penny.
"She said all she did was have sex all night long."
Kelsey promised Justus she would testify in the case against her pimp.
Justus brought Kelsey to Portland with her mom to testify to a grand jury. Sarah said her daughter was afraid.
"She sat outside the courtroom in the car and cried," Sarah said. "She could've run at that point. She wasn't in handcuffs. She didn't though.
"She sat there and cried on my shoulder and said 'Mommy I am scared.' I told her it was the right thing to do."
Kelsey was released to her mother who says she couldn't navigate the red tape to get the counseling her daughter needed.
"What she did was so brave and then they tell you she's too old for this program, too old for that program," Sarah Collins said.
For girls who have been trafficked, said Ernest Allen of the National Center for Missing and Exploited Children, returning to their old lives is not an option.
"You can't go home and have a happily ever after," he said. "You can't pick up where you left off in the ninth grade."
About a month after she testified Kelsey told her mother she was taking the bus to see a new boyfriend in Seattle.
It was Mother's Day, 2009 and her family never heard from Kelsey again.
Kelsey's disappearance caused inter agency tensions, said Justus.
"There was a lot of fallout," he said "Political boundaries went up. I know it was hard on everybody but let's swallow our pride, say we made a mistake, work together as a team and solve this thing."
Federal prosecutors indicted Kelsey's alleged pimp for trafficking in June 2009. He pled not guilty.
But in March 2010 the indictment was dismissed after Kelsey, the star witness in the case could not be found.
Justus believed Kelsey was targeted for speaking out.
Three months later, the alleged pimp would plead guilty to trafficking in a separate case. He was sentenced to 15 years in federal prison for trafficking a 14 year old girl into prostitution.
Whether or not he can prove it, Justus has his suspicions about what happened to Kelsey.
"I truly believe she was killed for testifying in this case," he said. "The federal government didn't do their job, they didn't protect her."
A spokeswoman for the U.S. Attorney's Office in Portland said federal prosecutors were unable to discuss Kelsey's case since it is "an ongoing investigation."
But in a statement released to CNN, U.S. Attorney Dwight C. Holton said, "Our heart goes out to Kelsey's family. We are pursuing every viable option and doing everything we can to put together this puzzle."
Sarah Collins has lost faith.
"They used her and they threw her away," Collins says of the prosecutors.
She said she doubts anyone is still seriously pursuing what happened to her daughter two years after she vanished.
She has finally put away Kelsey's clothes and lives with the fear that perhaps she will never know.
But she did find some answers in a letter Kelsey wrote to a friend:
"I have a new way to make a lot of money for us," 16-year-old Kelsey wrote.
A boyfriend had come to her with the idea of selling her body.
"I couldn't believe he was asking me to be a whore."
Kelsey's mom said the boyfriend was convinced he could get Kelsey to go along.
Kelsey's letter continued, "The next thing I knew I was."
FOLLOW THIS TOPIC