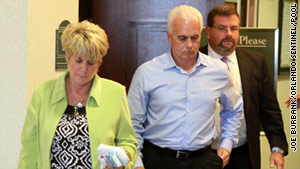 Cindy and George Anthony leave court on Tuesday after their daughter, Casey, was acquitted on murder charges.
STORY HIGHLIGHTS
"There could be" perjury charges, Ashton says
A CNN analyst says perjury charges are unlikely
Ashton is stepping down, having delayed his retirement for this case
On Saturday night at 9 ET on HLN, don't miss a special two-hour event, "Justice for Caylee: A Nancy Grace Special." HLN looks back at the evidence and the emotional testimony in the Casey Anthony murder trial.
(CNN) -- One of the prosecutors in the Casey Anthony trial said Wednesday there could be perjury charges against Casey's mother, Cindy Anthony.
Cindy Anthony testified that she was responsible for Internet searches on the family's home computer for information about chloroform. But records indicated she was at work at the time.
Prosecutors had alleged that Casey Anthony, 25, killed her daughter, Caylee, in 2008 by rendering her unconscious with chloroform, putting duct tape over her nose and mouth so she would suffocate, or a combination of the two acts.
Asked by NBC's "Today Show" whether legal action will be taken against Cindy Anthony for allegedly perjuring herself on the witness stand, Jeff Ashton responded, "I think there could be. That will be a decision made by another branch of our office."

Anthony family reacts to verdict

Anthony and the emotional rollercoaster

What's next for Casey Anthony?

Why do we care about Casey Anthony?
Ashton himself is leaving his post, proceeding with a retirement that he had delayed to take on the Casey Anthony case. The trial ended Tuesday with Casey Anthony acquitted of murder, manslaughter, and child abuse in the death of her daughter. She was convicted of lying to police, a misdemeanor that usually results in no jail time.
Asked by NBC whether he would pursue Cindy Anthony for perjury if he were staying, Ashton responded, "I honestly don't know. That would be a very, very difficult decision to make. As a prosecutor -- I've been a prosecutor for 30 years -- I hate to say this, but you're somewhat accustomed to family members trying to help their fellow family members. So you're kind of used to that.
"This, of course, was a rather important, you know, deception, if you will, that obviously was proven to be so by the other evidence. What they do with it is going to be a difficult decision that I'm glad I don't have to make."
Ashton was on HLN's "Dr. Drew" Wednesday evening at 9 p.m. ET.
Holly Hughes, a criminal defense attorney analyzing the Casey Anthony trial for CNN, said she believes "they've got enough evidence to prove" perjury, but "from a personal, human standpoint, I don't think we're going to see it happen.
"Remember, no matter what we think of Cindy Anthony, she is a victim here. She is a grieving grandmother. ... So we know that she truly truly loved that little girl and misses her. And, at this point, all she was trying to do was save her daughter's life and it worked. So at this point I think any prosecution is going to look like sour grapes."
Watch Nancy Grace Monday through Sunday starting at 8 p.m. ET on HLN. For the latest from Nancy Grace click here.
FOLLOW THIS TOPIC