Police in standoff with man suspected in 7 Michigan murders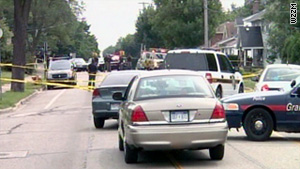 Two crime scenes were found, and police believe the two shootings that killed seven people are related.
STORY HIGHLIGHTS
NEW: He is believed to be holding two more people
The suspect releases one hostage unharmed
The suspect is thought to have killed seven people, including two children
Negotiations between the suspect and police are ongoing
(CNN) -- A man suspected of killing seven people, including two children, released one hostage late Thursday night, but was holding two more, said Grand Rapids, Michigan, Police Chief Kevin Belk.
Police have the home where he is holed up surrounded and negotiations between the suspect -- identified as Rodrick Dantzler, 34 -- and authorities are continuing, Belk said.
The hostage who was released was a 53-year-old woman, said Belk. She was unharmed.
Dantzler is suspected of killing seven people in two shootings, including two children, Belk said. Police had previously said that just one child was among the victims.
Police believe the two shootings could be related and that the suspect knew at least one individual at both locations, according to Belk.
Dantzler ran into the home after a roughly 15-minute chase from the police, said police spokesman Jon Wu. Shots were fired and a female pedestrian was wounded by gunfire during the chase, he said.
A second individual suffered non life-threatening injuries, said Belk.
The police chief described the standoff situation as "very tense."
"Our officers are obviously in harm's way and I don't want to do anything, release any information that I think will make their job more difficult," he said. "Our hope, our prayer is that we'll have a peaceful resolution here."
Police describe Dantzler as 6 feet 2 inches tall and weighing 250 pounds. He is considered armed and dangerous.
Four bodies were found Thursday afternoon at one location and three were discovered at another.
FOLLOW THIS TOPIC