Eight dead, including gunman, in Ohio shooting spree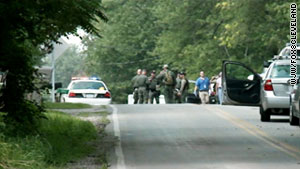 Law enforcement officers investigate Sunday after a gunman shot to death seven people in Copley Township, Ohio.
STORY HIGHLIGHTS
NEW: Police say the shooter chased victims between houses and through backyards
Neighbors hold candlelight vigil
One of the victims was 11 years old, police say
The assailant first shot his girlfriend, police say
(CNN) -- Seven people, including an 11-year-old child, were shot and killed in a small town in northeastern Ohio on Sunday in a rampage that ended when police killed the suspected gunman, authorities said.
The shootings occurred shortly before 11 a.m. in Copley Township, about seven miles west of Akron, according to the Copley Police Department.
According to a news release from the department, the shootings began at one house where the gunman shot his girlfriend, continued when the shooter ran to an adjacent house where he shot five people, then went on as he chased two other people "through some backyards" before hitting one.
"The shooter then went to another home ... where two other persons he had chased sought refuge. He entered the home, shot one victim and exited the home," the news release said.
At that point, a Copley police officer and a former officer who was in the area encountered the shooter who "engaged the officer and the citizen in gunfire and (the shooter) was shot and killed."
A total of eight people were shot by the suspect, police said, with seven killed and one wounded. That victim was hospitalized but the person's condition was not known Sunday night.
A woman who lives near the scene of the shootings described how one of the gunman's would-be victims fled.
"Somebody knocked on my door and a woman was at my porch, hiding on my porch," Brenda McCrady told CNN affiliate WJW.
When McCrady opened the door, the woman ran inside and told McCrady, "somebody had shot her husband point blank in the head. ... And then she started screaming, 'My son, my son, my 11-year-old son.' "
Authorities said one victim was 11 years old.
The identities of the victims are being withheld pending notification of kin, the Summit County Medical Examiner's Office said.
Residents of the area where the shootings occurred held a candlelight vigil Sunday evening, according to WJW. One neighbor said several of the victims were from two families who had lived side by side for years.
Another neighbor said residents were shocked and baffled by the shooting and would likely never get a full explanation.
"The killer's gone. We'll never know," the neighbor said.
FOLLOW THIS TOPIC