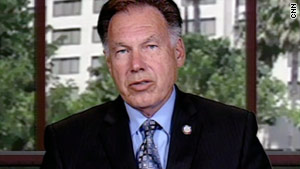 Orange County District Attorney Tony Rackauckas said "there is no question whether or not force was used."
STORY HIGHLIGHTS
Kelly Thomas, 37, died from injuries sustained in a clash with California police
District attorney says his office is trying to determine if "unreasonable force" was used
He says he's seen no evidence to indicate it was an "intentional killing"
The homeless man's father says his son suffered from schizophrenia
(CNN) -- A California district attorney promised Thursday a "just and fair result" soon as his office probes the death of a homeless, schizophrenic man who succumbed to injuries following a "a violent and desperate struggle" with police officers.
Kelly Thomas, 37, was taken off life support on July 10, five days after he was shocked repeatedly with a stun gun, beaten with flashlights, kicked and hog-tied by the officers, witnesses told local media. On a cell-phone video taken by a bystander, a person in apparent distress can be heard shouting, "Dad! Dad! Dad!" during the incident.
A photo of a man purportedly taken afterward and identified as Thomas was posted online. It shows the bruised and swollen face of a bandaged, bearded man lying on a bloodstained pillow.
It is difficult to tell whether the photo is of Thomas. The man's battered features are virtually unidentifiable.
Orange County District Attorney Tony Rackauckas told CNN on Thursday "there is no question whether or not force was used."
"The question is whether or not it's reasonable force, given all the circumstances presented to police at the time and whether or not they were overcoming unlawful resistance by Mr. Thomas," said Rackauckas. "These are legal questions that have to be answered."
The district attorney did not give a specific timetable as to when charges will, or will not, be filed. But he said it should not take long.
"I think we'll have the whole picture here in a short time, and we're moving toward a just and fair result," said Rackauckas.
According to police reports, the incident began around 8:30 p.m. on July 5, when six Fullerton police officers responded to reports that a man was trying to break into cars near a bus depot three blocks from City Hall.
The officers identified the suspect as Thomas, who was known to frequent the area. An altercation took place between the police officers and Thomas in which he suffered serious injuries and was taken to a local hospital, police said.
Last week, the homeless man's father said that he believes a "band of rogue cops that were thinking they're above the law ... took it on their own hands under color of authority, and brutally beat my son to death."
Ron Thomas, who said he plans to sue, added that fighting for his son is "what he'd want me to do. It's taken a heavy toll on me, but I can't stop. We need to prevail."
The father said an attorney representing the city of Fullerton came forward with a $900,000 settlement offer, which he turned down. He did not show the document to CNN. Phone and e-mail messages left for Fullerton City Manager Joe Felz seeking comment on the alleged settlement offer were not immediately returned.
The officers involved have been placed on involuntary administrative leave as the FBI and Orange County's district attorney investigates the case. The district attorney's office took over the investigation at the police department's request.
Fullerton Police Chief Michael Sellers released a brief statement on the incident saying, "This was tragic for our community. We are in the midst of an investigation."
Rackauckas said that these officers could be exonerated or face an array of charges -- including manslaughter or murder, if it is determined Thomas died because of "unreasonable force" and depending on what is deemed the officers' mindset at the time.
But the district attorney said that, thus far, he has not seen "any evidence of intentional killing" -- namely, that police came on the scene planning to kill Thomas.
He has seen a surveillance video showing the incident.
"It's heart-wrenching, it's hard to describe it differently," Rackauckas said of his feelings after seeing the video. "It's a tragic incident. It makes your heart go out to the family of Mr. Thomas."
The district attorney said the video "shows the encounter -- how it started and how it erupted into this violent and desperate struggle." He said it should help authorities determine if officers were using "lawful force ... in the conduct of a lawful duty."
Despite pleas from activists, the video has not been made public. Rackauckas said it "wouldn't be appropriate to release it at this time. (But) I can assure you, at some point, it will become public."
In the CNN interview, Ron Thomas said his son had struggled with schizophrenia for several years.
"Kelly was just a normal kid, he was a great kid all through school. Everybody loved him, even till the day he died," Thomas said. "It wasn't till he was in his early 20s that he started showing peculiar behaviors -- hygiene slipping, wanting to sleep on the floor instead of his bed.
The father said that his son was getting treatment, adding he was in a program that provided food and board and monitored his medications.
"Once on the medications, he was fine. It made him tired; he didn't like that part of it, but he was fine," Ron Thomas said. "He even held a couple of different jobs ... for a short period, and it was a short period because he was off his medication. And then the behaviors started coming back, and they let him go."
FOLLOW THIS TOPIC