STORY HIGHLIGHTS
Emily Guendelsberger, 27, was attacked by a mob in Philadelphia along with a group of friends
Her leg was broken, and she says she's surprised no one was permanently injured
Philadelphia's mayor implemented a curfew to curb "flash mob" attacks
Philadelphia (CNN) -- What started off as a regular Saturday night out on the town with friends ended at the emergency room for Emily Guendelsberger.
The 27-year-old online editor for The Onion, a satirical newspaper, had her leg broken in June when she and her friends were attacked by a large group of teens.
Guendelsberger and her friends had left her apartment and were on their way to a subway stop only a few blocks away when they came face-to-face with a throng of teens.
Things spiraled out of control in a flash when, according to Guendelsberger, the group of nearly 40 teens chased them down a nearby alley. The teens began punching her male friends in the head to knock them over and then kicked them once they were down on the ground.
Guendelsberger's boyfriend was left with a sneaker imprint on his forehead, she said. At one point someone tried to take her bag, and she was punched in the face, knocking her over.
Her tibia was snapped in half, and there was a crack in the bone behind her kneecap. It is being held together with screws.

Violent 'flash mobs' spotlight issues
"It was nuts," she said, gazing at her right leg inside a metal brace elevated on a kitchen chair. "We got off comparatively easy. It was awful, but nobody had anything permanent happen to them."
Another man, a few blocks away, was attacked the same night and taken to the same hospital.
Guendelsberger, who has lived in Philadelphia for five years, was mugged in the same vicinity, a relatively affluent area near the heart of downtown, roughly four months prior to the teen mob attack.
She said is not surprised by the violent flash mobs.
"I would imagine that, like, these kids don't have great lives if this is what they're doing," she said. "I don't know if that means I feel bad for them."
She doesn't believe her race played a factor in the incident because she was with an ethnically diverse group of people.
She says she plans to stay in Philadelphia.
"There's no point being angry about it. What's that going to do," she said. "It was teenagers being really destructive jerks, and they just happened to come across us."
Community leaders point out that many Philadelphia teens are not turning to violence. They noted that a group of area youths, the Philadelphia Youth Poetry Movement, recently took first place in a major slam poetry competition in San Francisco.
Philly kids want city to be known for more than flash mobs
Not all flash mobs turn violent. Many are excuses for people using social media to spontaneously get together, community leaders say.
The June beatdown was one of several teen mob attacks happening across the City of Brotherly Love in the past year, although the attacks have increased over the summer months.
Four suspects ages 11, 16, 17 and 19 were arrested for assaults in July, and another three juveniles turned themselves in to authorities this week after assaulting a male last month.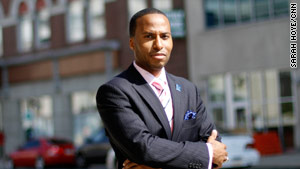 The violence is shedding light on nationwide socioeconomic issues, says Drexel University's Chuck Williams.
On Monday, Mayor Michael Nutter signed an order moving curfews to 9 p.m. on Fridays and Saturdays for people younger than 18 in Center City, the heart of Philadelphia's downtown, and in University City, home to the University of Pennsylvania and Drexel University.
In the rest of the city, the curfew will remain at 10 p.m. for kids younger than 13, and midnight for those under age 18.
First-time curfew breakers will be fined $150. Repeat offenders could be slapped with fines up to $500, the mayor's office said.
The city will also expand recreation center hours throughout the city.
"There is no excuse for young people being out so late at night by themselves and then making bad decisions and literally assaulting other citizens," Nutter said. "I will not tolerate that."
Nutter: 'No excuses' for flash mob attacks
Nutter, who is black, took to the pulpit on Sunday to condemn the attacks, and to call out the youths involved who are predominately black.
"You damage yourself, you damage another person, you damage your peers and, quite honestly, you damage your own race," he said.
There is no excuse for young people being out so late at night by themselves and then making bad decisions and literally assaulting other citizens. I will not tolerate that.
--Philadelphia Mayor Michael Nutter
The violent flash mobs are shedding light on socioeconomic issues in Philadelphia and nationwide, said Chuck Williams, director of the Center For The Prevention of School-Aged Violence at Drexel University.
The youth uprising in the United Kingdom could happen in the United States if poverty and education issues aren't addressed, Williams said.
"It is a reflection of we as a society -- first of all, though, starting with their communities, their families and their parents -- are letting down students and kids of color," he said.
Opinion: Would U.S. police have done better in London?
Williams was also quick to note that race matters when it comes to the teen unrest in Philadelphia, Chicago, Milwaukee and Las Vegas.
He cites the black community, and other communities of color, being disproportionately affected by economic inequality, lack of political representation, failing public school systems, public health issues and trauma.
Disadvantages, yes. Excuses, no, he said.
"As it relates to these problems, it starts and ends with the black community, and strengthening and supporting the black family," Williams said. "Why can't we talk about what we're doing to harm each other?"
FOLLOW THIS TOPIC