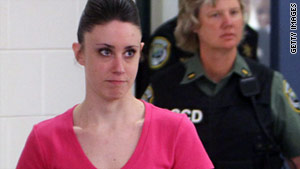 Casey Anthony, acquitted in her daughter's death, faces probation on a check fraud conviction.
STORY HIGHLIGHTS
The Florida AG's office files a response Monday to an appeal by Casey Anthony
Anthony's lawyers said she shouldn't serve probation on check fraud charges
A document states she'd serve that probation in prison, despite what a judge said
The state argues that serving the term in jail defies "the very purpose of probation"
(CNN) -- Florida's attorney general argued Monday against a motion by Casey Anthony's attorneys that she shouldn't have to serve probation on check-fraud charges, saying a "clerical error" should not prevent her from abiding by a judge's verbal order.
Anthony has been in seclusion since her July acquittal on murder charges in the 2008 death of her 2-year-old daughter, Caylee, and her subsequent release from jail. Orange County Chief Judge Belvin Perry Jr. ruled earlier this month that Anthony has to report for probation on the bad-check charge by Friday.
The names on the document filed Monday, and submitted to Florida's 5th District Court of Appeal, are Attorney General Pamela Jo Bondi and Assistant Attorney General Wesley Heidt.
The state attorney assigned to the case for the 9th judicial circuit said the prosecution "joins and adopts the response," which has been sent to Anthony's attorney Jose Baez, according to a document signed by Assistant State Attorney Frank George.
The state's response claims it is "undisputed" the court intended for Anthony to serve her probation after being released from jail -- even if documents ran counter to a judge's verbal decision in court that she would serve her probation if and when she was released after her murder trial.
"It is well-settled law that oral pronouncements control over any discrepancies in the written document," the state claims.
Furthermore, the state argues that Anthony never completed requirements of her probation while behind bars.
"Legally, it is clear that a defendant cannot serve probation while incarcerated," the state writes, citing a previous ruling that stated "the rehabilitative concept of probation ... presupposes that the probationer is not in prison."
The response adds that if Anthony is not ordered to serve probation, "(She) would be using the erroneous actions of the Department of Corrections as a sword to bypass the known intent of the sentencing court and the very purpose of probation -- supervised release."
The attorney general's office writes that Anthony "upon her release (July 17), should have reported" for probation -- something she did not do.
Instead, her attorneys have argued repeatedly that Anthony should not have to return to serve her probation in Florida.
In an emergency petition filed last Wednesday with the same appeals court, Anthony's defense team asked that the court overturn Perry's order before the required date. They also asked the appellate court to strip Perry of further jurisdiction in the case.
Anthony had been convicted of felony check fraud for stealing a checkbook from a friend and writing five checks for $644.25. Orange County Circuit Judge Stan Strickland ordered her to serve the year of probation following her release in the charges involving her daughter, but a clerk misunderstood the judge and prepared an order that the judge later signed instructing that Anthony would serve the probation while in custody awaiting trial.
The order was updated August 1 to add the words "upon release." But Anthony's lawyers contend she can't be made to serve probation if she served it while in custody under a signed order from Strickland, saying it would violate constitutional protections against having to serve a sentence twice for the same offense.
Perry ruled earlier this month that Strickland's verbal order was binding, and that "to bar the court from correcting a clerical mistake and to permit the defendant to serve probation in jail while awaiting trial on a totally unrelated charge without any possibility of complying with the terms of the probation order would clearly thwart society's interest in extracting a full, fair and just punishment for a crime."
He said ordering Anthony to serve probation on the check-fraud case does not violate double jeopardy, since the check fraud crimes and the murder case involved different counts, and said Anthony couldn't have complied with the probation terms while in jail.
Anthony's probation order requires her to live in Orange County, Florida, unless the probation office allows her to leave. She has received no such approval, a corrections department spokeswoman has said.