STORY HIGHLIGHTS
Kelly Thomas died five days after a struggle on July 5 with Fullerton police
His attorney releases medical records compiled by doctors who treated him
Records cite head trauma and brain injuries, smashed cheek bones and rib fractures
Six officers are on involuntary paid leave while investigations continue
Los Angeles (CNN) -- A homeless man who sustained injuries in a confrontation with police in Fullerton, California, died from brain injuries as a result of head trauma, according to medical records made public Wednesday by an attorney for the man's family.
The medical records, obtained by attorney Garo Mardirossian, were compiled by physicians at the University of California Irvine Medical Center while Kelly Thomas, 37, remained on life support after the violent struggle with police on July 5.
"By the time he got to the hospital he was already brain dead," said attorney Mardirossian.
As Thomas' father, Ron, sat stoically in front of television cameras, occasionally fighting back tears, Mardirossian took reporters through the hospital records of the dead man, a diagnosed schizophrenic who was homeless at the time of the altercation.
Lawsuit accuses police of civil rights violations
Mardirossian said the medical examination showed that Thomas suffered blunt head trauma with multiple broken bones in his face, and with rib fractures. Thomas died five days after what the Orange County district attorney has called "a violent and desperate struggle" with Fullerton police.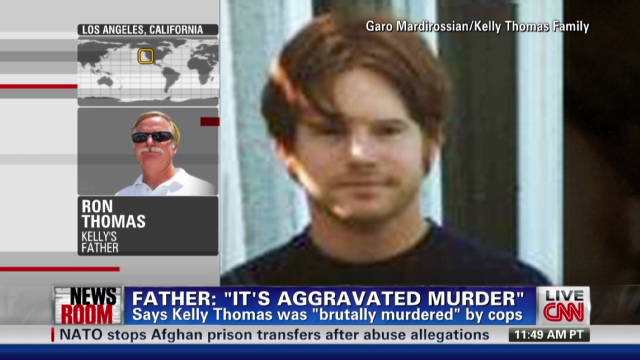 Revealing details of Kelly Thomas' death
During the incident, which authorities say was captured on videotape, six officers responded to reports of a man reportedly attempting to break into cars near a bus depot, according to police. Shortly after officers arrived, Thomas was shocked multiple times near his chest cavity and on his back with a Taser stun gun, said Mardirossian.
According to the medical records, Thomas also suffered nose and brain trauma, and smashed cheekbones.
Mardirossian claimed that officers used their Taser guns to deliver some of the head and face blows. "Witnesses had described that one officer grabbed a Taser and held it like a pistol and pistol-whipped him repeatedly on his head," he said. "As a result he caused serious injury and eventually brain death,"
The examination also concluded that Thomas had no narcotics or prescription medications in his body, Mardirossian said.
Several bystanders witnessed the encounter and others recorded portions of the beating on cellular phones, according to Mardirossian. "He is not only heard calling out 'Dad, Dad, Dad,' but he also yelled out, 'I can't breathe,'" said Mardirossian.
According to the medical report, Thomas suffered severe internal bleeding. "The medical evidence will show that all that blood is what he ended up choking on," the attorney said.
Ron Thomas, a retired police officer who once trained police departments and military officers in use of force tactics, has filed a claim against the city of Fullerton. "This is not just a beating, it's an aggravated murder," said Thomas.
The Orange County Coroner's office has not determined the official cause of death, pending toxicological findings, officials said. The Fullerton police department declined to comment about the medical reports.
Since the Thomas incident, six officers allegedly involved have been placed on involuntary paid administrative leave. City officials have not released their names.
Police Chief Michael Sellers has taken a paid medical leave, and two of the city's five council members have called upon him to resign.
Meanwhile, there are two external investigations into the death, by the FBI and the Orange County district attorney's office. The FBI is looking at possible civil rights violations.
"Kelly Thomas trusted police and he had no reason to fear or expect police officers would beat him to death," said attorney Mardirossian.
"His father was a police officer, his grandfather was a police officer and his uncle was a police officer."
Following the beating, there was no evidence that vehicles were burglarized nor was Thomas in possession of any stolen property, according to Mardirossian.
FOLLOW THIS TOPIC