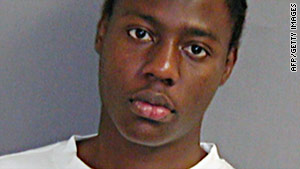 Umar Farouk AbdulMutallab of Nigeria is representing himself at his trial in Michigan.
STORY HIGHLIGHTS
AbdulMutallab made incriminating statements before being read his Miranda rights
The Nigerian man is accused of hiding a bomb in his underwear
He was on a Christmas 2009 flight from Netherlands to Detroit
(CNN) -- The federal judge presiding over the trial of terror suspect Umar Farouk AbdulMutallab is allowing prosecutors to use incriminating statements made by him while he was being interrogated by federal agents, a court official said.
U.S. District Judge Nancy Edmunds ruled Thursday that the national security exception applied when agents did not read AbdulMutallab his Miranda rights before questioning him, said Rod Hansen, media information officer for the federal court for the Eastern District of Michigan.
The agents questioned AbdulMutallab at the University of Michigan hospital where he was taken after an alleged Christmas Day bombing attempt on a Northwest Airlines flight in 2009.
After listening to testimony, Edmunds also found that it did not appear AbdulMutallab was impaired at the time, despite the pain medication he was given for the burns he suffered in the alleged effort to ignite an explosive device he had hidden in his underwear, Hansen said.
AbdulMutallab is representing himself in the trial, which is expected to begin October 11.
At Wednesday's appearance to introduce himself to the 250 prospective jurors, he shouted, "Osama's alive!" when he entered the courtroom. Edmunds was with the jurors in another room in the courthouse when AbdulMutallab made his outburst. The jurors did not hear or see it.
After Edmunds gave some instructions to the group, she asked the U.S. attorneys, AbdulMutallab and his standby counsel, Anthony Chambers, to introduce themselves via closed-circuit television.
When it was time for AbdulMutallab to stand, he leaned back in his chair and put his foot on the table, according to a court official. "A U.S. marshal who was standing behind him reached over and pushed his foot to the floor," the official said.
Also during Wednesday's hearing, Edmunds ruled against defense motions to move the trial out of Michigan and the United States.
AbdulMutallab has been indicted on charges that include attempted use of a weapon of mass destruction, conspiracy to commit an act of terrorism and possession of a firearm or destructive device in furtherance of an act of violence.
He has pleaded not guilty to the charges.
He was a passenger on Northwest Airlines Flight 253 en route from the Netherlands to Detroit on Christmas Day 2009.
According to an indictment, he went to the bathroom shortly before the plane was to land. When he returned to his seat, he said his stomach was upset and pulled a blanket over himself.
Prosecutors allege he then tried to ignite an explosive device that was hidden in his underwear. Passengers and flight crew members subdued him. U.S. officials say the terror group al Qaeda in the Arabian Peninsula was behind the alleged bombing attempt.
Edmunds wants the two sides to narrow the jury pool to 65 prospective jurors by October 4. That is the day set for official jury selection. Before that, one more hearing will take place on September 27 to address any issues the prosecution or defense may have with the questionnaires filled out by prospective jurors Wednesday.
In addition, Edmunds will take up pretrial motions from the prosecution. Those include a request to call an al Qaeda expert and permission to set off an explosive device to demonstrate how powerful AbdulMutallab's alleged bomb was and the damage it could have caused.