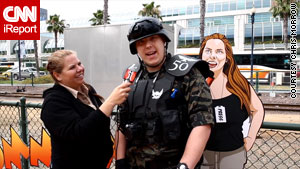 iReporter Chris Morrow interviews Dillon, a Petty Officer in the Navy, at this year's Comic-con in San Diego.
STORY HIGHLIGHTS
Boot camp gives iReporters a chance to freshen up on their storytelling skills
Starting August 12 for seven weeks, CNN experts will review the basics of storytelling
There's a chance to get one-on-one feedback from CNN experts in each area
Calling all iReporters: Have you ever wanted to write for CNN.com? Well here's your chance to get a CNN.com byline and improve your journalism skills along the way.
Over the next seven weeks, you will be building a story from start to finish and working with some of the best journalists in the business along the way.
Each week, CNN experts will take you through the basic steps of storytelling -- from picking your story to shooting and editing photos and videos and wrapping the package with a killer headline. At the end of each week, 10 iReporters will get one-on-one feedback from specially selected CNN experts in each area, and everyone will get a chance to ask the experts questions at the weekly roundtables. When boot camp is over, you will have a completed story with all the bells and whistles. And the best stories have a chance of being published on CNN.com.
How does it work?
Starting Friday, August 12, we'll launch a new topic every Friday. We will publish tips from CNN experts on that topic and open up that week's iReport assignment, which will cover each step of the storytelling process.
You will have until the following Monday at noon ET to submit your iReport.
Once submitted, CNN experts, along with the iReport team and the iReport community, will evaluate your iReport for that week.
Every Wednesday, a select group of iReporters (Core iReports as we'll call them) will submit their top picks for that week, which you can find linked on the boot camp launch page.
On Thursday, the CNN expert for that week with give feedback on a handful of the submissions, answer any questions you might have and share additional thoughts and suggestions through a roundtable discussion, which you'll find on the iReport boot camp page.
How can I participate?
Anyone can participate. Just take note of when each topic launches, which will be every Friday for the next seven weeks. Then submit the appropriate assignment by its deadline and tune in every Wednesday and Thursday for feedback from the community and CNN experts.
Those who participate every week will have a better chance of getting their story featured on CNN.com.
What are the topics? And what's the schedule?
Even though the assignments won't open until the tips post is published, you will still be able to check it out, so plan ahead. Make sure to keep checking the boot camp launch page for continued updates on the assignments and topics.
Week 1: Pick your story: Launches August 13, roundtable August 18.
Week 2: Find your sources: Launches August 19, roundtable, August 25.
Week 3: Interviewing: Launches August 26, roundtable September 1.
Week 4: Capturing images: Launches September 2, roundtable September 8.
Week 5: Photo and video post-production: Launches September 9, roundtable September 15.
Week 6: Editing: Launches September 16, roundtable September 22.
Week 7: Headlines and story building: Launches September 23, roundtable September 29.
We'll announce specific times for the Thursday roundtable discussions as we get closer to the actual dates.
Remember to tune in every Wednesday for feedback from our Core iReporters. And on September 30, we will announce the iReporters who got their story published on CNN.com.
Who are the experts?
From CNN.com's Senior Supervising Producer Manuel Perez to CNN Director of Photography Mark Hill, we have tapped some of the best in the business to help you become a better journalist. And some of those familiar TV personalities will be sharing their secrets as well.
So in the meantime, check out all the assignments and start thinking about what story you want to cover.