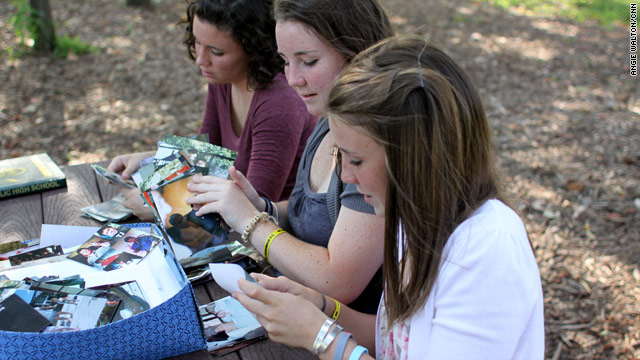 STORY HIGHLIGHTS
Rutgers students interviewed children who lost a parent on 9/11
The children, now in their teens and 20s, opened up to people their own age
The students learned how a global tragedy affected families
The students shared their stories in face-to-face interviews with CNN
Editor's Note: As part of CNN iReport boot camp, CNN producer Ann O'Neill takes us behind the scenes of how she wrote the story of the 9/11 generation.
(CNN) -- The story of how the 9/11 generation found its voice began as most stories do, with a rush of panic and a daily deadline. The exuberant reaction of college students last May to the death of Osama bin Laden caught our eye. We wanted to get to the bottom of it.
A Google search yielded a great resource: The Rutgers University 9/11 Project. Journalism students were studying the terrorist attacks, preparing to find and interview children who had lost a parent that day. What better place to find articulate students to explain the celebration on campuses across the nation?
A flurry of e-mails went out, and we hit the mother lode. I quickly was put in touch with four students, and they blew me away.
Talking to young people on the phone brings in the highlights; you can get quickly to the point and cover the basics. But these students all are aspiring writers, photographers and videographers, so I asked them to go deeper and e-mail me their thoughts. When the emails landed, they were so good, so thoughtful, that they stood on their own. I edited them and linked to them in that first story: The 9/11 generation's bogeyman is gone.
As the 10th anniversary of 9/11 drew closer, the Rutgers students stayed on my mind. I wondered if there was a way to tell a unique story about the 9/11 generation by reading their work and asking what they'd learned by connecting with children who'd lost a parent in the attacks. Not every story needs to be loaded up with statistics and academic studies. The voices of the kids themselves would be better than any poll or survey.
I traveled to New Brunswick, New Jersey, in mid-August, and met with several of the students and their teacher, Ron Miskoff.
I interviewed some of the Rutgers students one on one, sitting down with Megan Schuster at a diner over omelets, chowing down on Panini with Jennifer Lilonsky at the restaurant in my hotel and taking Travis Fedschun's memorial tour. When you interview somebody in person, you get to have a conversation with them, not just bombard them with questions. You observe their body language, the way they talk, look into their eyes. They are people, not subjects.
After meeting me in person, they were willing to share their unpublished pieces and the essays they'd written to win admission to the course. I assured them I wouldn't just rip them off.
The common themes leaped out at me: Everyone felt paralyzed by the events of that terrible day. Schoolchildren saw adults freak out, and didn't know why. It scared them, and the Rutgers students had that experience in common with the children they'd interviewed. They could get them to open up.
See one Rutgers student's video package about the 9/11 project
That was my starting point. But the real storytelling lay in how people dealt with the tragedy. Some struggled, some succumbed and some triumphed. Jennifer Lilonsky went in thinking everyone was expecting a sad story with a happy ending. But the story she came back with seemed more real: the story of a boy who felt lost without his dad.
Another student, Schuster, arranged for us to meet with the three sisters she interviewed. She was deeply moved by their story and they way they'd rebuilt their lives.
Corinne, Casey and Amy -- now 18, 16 and 14 -- met us at a park where a memorial stands in remembrance of their father, T.J. Hargrave.
It was a beautiful day. The sky was a clear blue, the summer humidity was gone, and there was a snap of fall in the air.
"September 11 days,' said their mother, Pat Hargrave, with a bit of apprehension. Ten years ago, her husband went to work at Cantor Fitzgerald on a gorgeous day just like this one, and never came home.
From the Hargraves, Schuster unearthed a haunting photograph and a story of love and resilience. We're better off for knowing about them.
The experience also taught Schuster a lot about life, she said in an e-mail: "How to cope with tragedy and losing ones you love, especially when it's out of your control. How to look at the bigger picture of life and how not just one thing constructs our identities. How we can go on to live life not just for ourselves, but for the ones we love."
And, how to carry on in the face of darkness with dignity and grace.