iReport roundtable: Boot camp, Week 6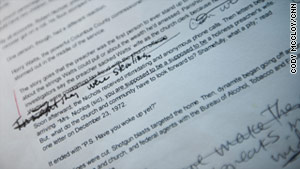 STORY HIGHLIGHTS
iReport boot camp calls on iReporters to polish storytelling, get stories on CNN.com
Boot camp roundtable gives the boot campers a chance to get live feedback from our experts
The roundtable begins at 2 p.m. ET on Thursday
Editor's note: Please scroll down to the comments section starting at 2 p.m. ET to take part in this week's roundtable discussion. Remember to refresh the page to see the latest comments.
Please join us today at 2:00 p.m. ET for part six of our series of CNN iReport boot camp roundtable discussions. Today's topic will be editing your text.
Finding your story's focus and boiling down your word count can be one of the most difficult parts of the storytelling process. In the sixth week of CNN iReport boot camp, we challenged iReporters to develop and outline and submit the first three paragraphs of their story.
Learn more about iReport boot camp
Below in the comments, CNN.com Senior Producer Steve Goldberg will offer feedback on several iReporters' stories submitted to the editing assignment. He will also review some handy journalism tips. During the roundtable, everyone will have a chance to ask Goldberg questions.
You can be a part of the discussion, even if you didn't participate in the boot camp assignments. Just check out Goldberg's tips on editing, and have your questions ready. You can also check out the other tips on storytelling from the past five weeks here.
For those taking part in the boot camp, remember your entire story is due Monday, September 26, before noon ET. We will start announcing the byline winners on Tuesday.
And if you are wondering how to tell who from CNN is joining in on this roundtable conversation, just look for the photos with CNN written under our smiling faces. Let the discussion begin!