STORY HIGHLIGHTS
Math teachers say many students don't see how math will be useful in their lives
Teachers have to teach multiple ways to answer problems
Class time often is spent catching students up on concepts they should know
Editor's Note: In Subject Matters, we reveal the struggles faced by educators who teach subjects such as science, math, English and history, and the solutions they've found. In previous Subject Matters stories, teachers discussed their concerns about science and language arts education.
(CNN) -- Whether it's following hockey statistics or calculating the national debt, our daily lives add up to a lot of math. But try explaining that to a room filled with middle schoolers.
Jennifer Lawson, a sixth-grade math teacher at Hillside Middle School in Northville, Michigan, said many of her students believe that with today's technology, they will never need math.
"You give me a situation where you will never use math," Lawson said, "and I'll give you 10 ways that you will."
Regardless of whether students believe they'll use math, it remains a main subject of evaluation under the federal No Child Left Behind Act. Here are some of the challenges that math teachers face in their classrooms:
Knowing the basics
Fourth-graders in Sandi Fain's class at Red Bank Elementary School in Chattanooga, Tennessee, must try to master 38 tested math standards during the school year. But with less than 38 weeks in the school year, mathematically speaking, her students need to learn more than one standard every week to ace the state tests.
"We are trying to ask children to leap through math concepts, and when they do that, we are cheating them out of some growth," Fain said. "They could be missing the foundational steps they need to continue on."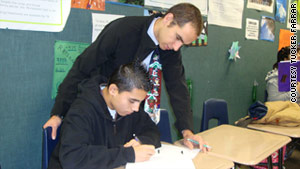 Tucker Farrar uses real-life scenarios to work on geometry with students, including Jesus Rodriguez.
Tucker Farrar, a Sacramento, California, high school geometry teacher, agrees that students are not given enough time to develop the core math skills that they will need later. Farrar said it "blows his mind" to see how many kids can pass a test and move to the next level without having mastered the math skills.
"Many of our students do not come in at grade level. Some are far below grade level," said Diane Holt, a math teacher at Will C. Wood Middle School in Sacramento. Although a child may not have reached grade level by the end of the year, Holt said she sees a different type of progress.
"I see a kid who has learned throughout the year, and has progressed throughout the year," she said. "It's very rewarding to see that."
Change may come through the Common Core State Standards initiative many states are implementing. It calls for similar testing criteria to be adopted by all 50 states.
Eighth-grade mathematics teacher Jacob Hesselschwardt of Cope Middle School in Bossier City, Louisiana, has read through the proposed standards and said they're focused.
"Less is being covered per year, but there is much greater depth of understanding," in the Common Core proposals, he said. "I think it's going to be beneficial to the students."
Helping kids 'get' it
Beth Sebastian, a fifth-grade math teacher at East Lake Elementary in Chattanooga, said some students can only understand numbers in one certain way. That means Sebastian normally teaches her students four or five ways to get the correct answer to a problem. Multiple problem-solving methods usually cover the needs of all of her students.
"It's like a puzzle to me," Sebastian said.
That's a common struggle among math teachers at all levels.
"Every student comes to math with different background understandings, different learning preferences, different attitudes toward math," said Fain, the fourth-grade teacher in Chattanooga. "The challenge of teaching in such a way that all students approach mathematical understanding is enormous."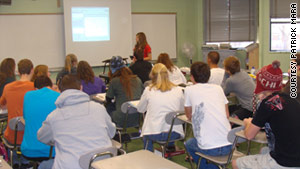 Student Rachel Flesher teaches Pat Mara's calculus class. Teaching helps students learn, Mara said.
In Pueblo, Colorado, South High School teacher Pat Mara said that by the time they are seniors, his students have had 12 years to acquire holes in their math foundation. In his calculus classes, he said, they at least have a little more time to re-teach areas where students might have problems.
He has another solution: to have each of his calculus students teach one class during the year.
He said he believes the best way to learn something thoroughly is to have to teach it to someone else.
"If they learn nothing else," he said, "they learn that lesson."
Math in real life
At Health Professions High School in Sacramento, instructors teach their subjects though the lens of health care occupations. That's not so easy with subjects such as geometry, said Farrar, the high school teacher.
When students were working on a scenario about a patient with a substance abuse condition, he had them figure the distance from the patient's home to the nearest treatment center.
The students' best projects come in the last month of the year, he said, after students have taken the state math test. The pressure of the test is off, and they can spend three or four days on a concept, Farrar said.
In Michigan, Lawson uses game theory when teaching her middle school students about probability and strategies. She has them calculate how they have the best chance of winning, or whether games are fair.
Instead of a paper and pencil, students at Red Bank Elementary in Chattanooga move their desks for an exercise on calculating area. Fain said she has them line up the desks in different ways and then talk through the exercise. She said she finds that if the students explain what they have done, they generally get the concept.
Not that everything can be made into a game. At Northwood High School in Shreveport, Louisiana, teacher Gene Weitzel said there's too much emphasis on keeping kids entertained. Sometimes, he said, they just need a seasoned teacher to explain the concepts.
He shares that lesson with his students, too.
"Learning," he said, "isn't always fun."
FOLLOW THIS TOPIC