STORY HIGHLIGHTS
Constantly building highly valued skills can make your career stable even as you change jobs
Your target career ambition might be two or three jobs away -- plan for that
Sustaining a fan base requires particular work when making frequent job moves
(CNN) -- The Steven Tyler-model of career planning is starting to look like the norm in the business world: frequent changes of venue, constant reinvention, and, hopefully, a loyal fan base that sticks with you through it all.
That's the gist of career expert Allison Hemming's upcoming presentation at South by Southwest this year. Her DJ-assisted riff on how to "build your brand the rockstar way" on March 15 is part of the glitzy-but-geeky business content that has proliferated at the Austin, Texas-based SXSW festival in recent years.
What started as an annual film and music festival now incorporates a week of technology-oriented content (and after-parties) that aim to capture the whims and the worries of the business world's digital workers.
Hemming, the CEO of Hired Guns, a "talent agency" for the creatives of the business world, says that these days, professional ambitions have to be fitted to a marketplace of frequent job changes and reduced, or at least redefined, job security. If you want to make your career last, there are several lessons to be learned from rock legends, she says.
Don't be a one-hit wonder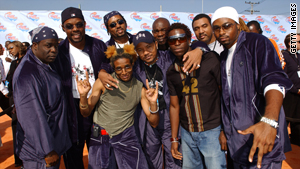 Don't rest on your success or you could end up being a one-hit wonder like the Baha Men.
Chart-topping one-hit-wonders like Right Said Fred's "I'm too sexy," the Baha Men's "Who Let the Dogs Out" and Los del Rio's "Macarena" might pay off in the musical world with royalties and international tours. But in the business world, workers can't count on making a lasting success of one particular accomplishment or job skill.
"You have to take the onus of constantly producing and own that for yourself -- don't wait for your boss to put stuff in front of you," Hemming said. "Am I producing things that are keeping me interested, pushing me out, helping me learn and allowing me to be more creative in my career?"
According to recent survey by Right Management, a talent and career management company, 84% of workers plan to look for a new position this year. But that planning doesn't mean they'll actually change jobs.
"The actual movement is still up in the air. Generally, probably 20% turnover is average," Right Management COO Douglas Matthews said. He said the desire to seek a new position points more to frustrated sentiments in the workforce.
In the recessionary work world, mobility between companies or even sectors is often perceived as the only way to advance a career. And only professionals who have developed beyond one-hit wonders find it easy to make a move.
"Forty percent of the people we work with either change industry or change functions," Matthews said. "It's about recrafting their skills into a new opportunity. People who have professional skills have that latitude."
Quiz: Smart about building the brand of "you?"
Aim for the arena
To get ahead in your career, it's important to envision where you want to end up.
"Once you understand that you're going to ultimately have multiple gigs, like any great rockstar you have to take responsibility on yourself -- why are you going to get asked to a bigger venue?" Hemming said.
She advises job hunters looking to upgrade to think less about the job they have and more about where they want to ultimately end up -- and what it would take to get there.
Penelope Trunk, the career-advice blogger behind Brazen Careerist, also notes that workers with the most stable careers are building new skills all the time -- but she points out that the learning probably can't and won't all happen in one place. Stability no longer equates to looking for the one company where you can hunker down for a long stretch.
"You learn most by making a big, positive impact wherever you go, and then leaving," she said. "We create stability in our careers by taking personal responsibility for our own learning curve .This skill building requires constant job changing because after 18 months, our learning curve at any given job flattens out drastically."
That may mean taking a pay cut to learn new skills at a job where you are a bit less qualified or seeking out a boss who can act as an effective mentor who'll manage your act. Planning two or three jobs ahead may be the only way to achieve ambitious goals.
"You have to know where you want to go, which companies you want to work at, and ultimately how you're going to get there," Hemming said. "You have to envision how you're going to get out of the tiny little club in the East Village up to Radio City Music Hall and then play Madison Square Garden."
Build your fan base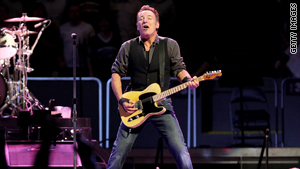 Cultivate your relationships with your references the way rock stars do with their fans.
Careerists who do leapfrog across companies gain and lose coworkers and mentors at an accelerated rate -- and need to figure out how to sustain their fan base.
"I'm not just talking about Twitter followers -- what are you doing about coalition building within the organizations you work in? How are you pulling your references forward?" Hemming asked.
She emphasizes the need for building relationships. "If Bruce Springsteen just stood on stage and sang any song he wanted, his fans might not be as engaged."
A generation ago a businessperson might call on three or four references a few times during the duration of a career. With the accelerated pace of job change, career experts like Hemming predict a young worker might end up calling on his or her references dozens of times.
Savvy professionals expand the number of colleagues they might call on as a referral and rethink the dynamics of what used to be viewed as one-sided connections, according to Keith Ferrazzi, a networking specialist who launched Relationship Masters Academy as on online "people skills" university.
"You need to expand what I call lifeline relationships, the kind of people you can use as a referral," he said. "It's active engagement -- you say to these people, let's help each other be successful -- who can I introduce you to, how can we help each other?"
According to Hemming, making a few relationship-building dates is just a starting point for how to sustain the connections you need and turn references into mentors and colleagues.
"You have to put yourself in your references' shoes and say -- what can I do to thrill them, how can I give them the unexpected that will make them respect me and evangelize for me?" she said. "That's a whole other level of fandom that you can incorporate into how you manage your career."
FOLLOW THIS TOPIC