STORY HIGHLIGHTS
Tabatha Coffey sees the word "bitch" as a badge of honor
She says the word stands for brave, intelligent, tenacious, creative and honest
Coffey: Women are givers but they need to stand up for themselves in business
She doesn't pay a lot of attention to hair of people she encounters unless it's a disaster
(CNN) -- Call the average woman a "bitch" and she'll be offended. But Tabatha Coffey, star of Bravo's "Tabatha's Salon Takeover," is not your average woman. She wears the word as a badge of honor.
Embracing your inner bitch "just means that you're taking power for yourself," she says. "It's very empowering. It means that you're being strong and honest with yourself and those around you, and I think that's a good thing."
Coffey embraced her power after appearing in 2007 on Bravo's "Shear Genius," a reality show that pitted hair stylists against one another. In the show, her take-no-prisoners approach to hair -- and opponents -- gained her notice as the show's hotshot "villain" -- but also won her $10,000 as "fan favorite."
Her forthright manner gained her a new moniker from show fans: Bitch.
"It was such a weird thing for me that people would refer to me that way," Coffey says. She put her own spin on the word, deciding that it simply means someone who is Brave, Intelligent, Tenacious, Creative and Honest.
"I've really always embraced the fact that I'm strong and I'm honest, and I've never had a problem with standing up for myself," she explains.
Women can have a difficult time standing up for themselves in the workplace -- "Women are such givers," Coffey says -- but she says it is essential to success. Women also fear they will be labeled bitches. But once a woman embraces her inner bitch, Coffey says, it shifts power in her favor. She feels a lot more confident and better about herself.
Strong women can't be put off by people who complain they are intimidating. That's on them, she says. "It's just a sign of their insecurities."
There is, however, a difference between standing up for yourself and refusing to do your job.
"If someone asks you to do something that is uncomfortable, is out of (your) boundaries, is not ethical, then, yes, you need to stand up for yourself. If someone's asking you to do your job and you are being lazy and you don't want to go and do your job, then that's a totally different issue."
In "Takeover," Coffey spends one week trying to help a struggling salon straighten up and fly right. The owners of the featured salon ignore her advice at their own peril.
"I get frustrated when we start to butt heads," she says. "But when they're not listening to me, or I feel like they're appeasing me and kind of just 'yessing' me to death and I'm not getting through to them, that's really frustrating and hard for me."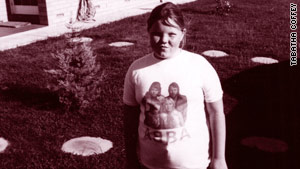 Tabatha Coffey says this childhood photo shows she has problems to overcome like everyone else.
Coffey says people have many misconceptions about her. Look at some of the photos in her new book, "It's Not Really About the Hair," and you'll see that she hasn't led a charmed life.
"For people to see the chubby Tabatha in the ABBA T-shirt and me talk about the fact that I've struggled with weight, and to see me with crazy hair and all those things, it just shows that I truly am like everyone else," she says.
Well, if everyone else had grown up at their parents' Adelaide, Australia, strip club with drag queen "aunties." And been abandoned by their father. And shunned by their mother when she found out they were a lesbian. And been kicked off a reality TV show only to be offered their own show the next year.
"Do I get tired about talking about me being a bitch?" she asks. "Look, I get that people think I'm a bitch and people want to ask the question."
The Tabatha that people are reacting to, she says, is Tabatha in work mode, but "she's not a bitch. She's just very focused, very driven and has this standard that I expect from myself and everyone around me."
There is also the Tabatha "that's at home watching CNN all the time (her dream alternate career is as a foreign correspondent) and cooking dinner and in the garden, and the Tabatha that goes out with her friends and has fun, and the Tabatha that does charity work."
There is also the Tabatha who is social media-conscious, monitoring what fans are saying on Twitter and setting aside time to respond to her Facebook page herself rather than staffing it out. When you meet her, she is warm and engaging and down-to-earth.
"There are all these different sides to my personality, just like there is with every other human being out there."
Being tough and demanding at work is a part of it, she says, "and it's not a bad thing."
One more thing: Relax when you meet her. She's not mentally restyling your hair.
"I really don't pay as much attention to everyone's hair as everyone thinks that I do. I know that everyone gets nervous when I walk in, like I'm critiquing them, but the only time I do is when it's truly disastrous and I look and think ... if I could just do this, it would be so much better."
FOLLOW THIS TOPIC