STORY HIGHLIGHTS
Darin Strauss recounts hitting a cyclist in memoir "Half a Life"
Forgiving yourself -- especially after blameless incident -- is difficult, say counselors
Key to the process: Talking to others, being honest with self
(CNN) -- Darin Strauss was 18, a month from graduating high school, when he climbed into his father's Oldsmobile and picked up some friends to play miniature golf. He drove in the left lane of a four-lane thoroughfare in Long Island, New York, shooting the breeze, enjoying the watercolored scenery, not a care in the world. Up ahead, on his right, two girls pedaled bicycles on the shoulder.
Suddenly, one of the girls swerved left across the road. Strauss, with no time to react, hit her at 40 miles per hour. The girl -- Celine Zilke, a student at Strauss' high school -- died.
Strauss was exonerated by the legal system. His friends, for the most part, were supportive. But he privately carried around the memory of Celine Zilke's death for decades. After a poor experience with a therapist, who seemed as determined to impress Strauss with his sports car as help him past the guilt, Strauss went off to college and essentially buried the incident except to a few intimates.
"They said I wasn't to blame," Strauss recalls in an interview at an Atlanta coffee shop.
But he could never let go. The words of Zilke's mother -- "You're living for two" -- echoed in his brain. He became a well-reviewed, best-selling novelist. His books include "Chang and Eng" and "The Real McCoy." He married and had children. But it wasn't until he entered his late 30s that he decided to revisit the car accident and its effect on his life. His memoir, "Half a Life," won the 2010 National Book Critics Circle Award and was recently released in paperback.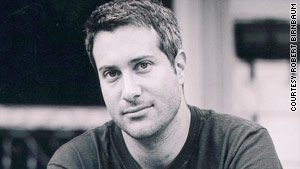 Darin Strauss' book "Half a Life" is a memoir about his experience after he hit a cyclist.
Though Strauss, now 40, said he was sometimes challenged to dredge up details, the emotional power of the accident never left. "(The incident) was branded into my brain," he says. And letting go, he adds, hasn't come easily, either. "For a long time, I was in denial. Everyone told me I'm fine, so I must be fine."
Life is an adventure in forgiveness, the writer Norman Cousins once said, but few things come so hard as forgiving oneself.
Yes, there are websites, such as PostSecret.com and SecretRegrets.com, that allow people to expose their pain anonymously. The radio show "This American Life," on which Strauss first told his tale, did a whole show on blameless guilt. And there are therapists and clergy by the score ready to lend a willing ear.
But it's not like the clouds suddenly lift after someone like Robin Williams' "Good Will Hunting" shrink utters "It's not your fault" a half-dozen times.
iReport: How did you come to terms with a horrific event?
"Even with an outside release, internally we can't give ourselves the same freedom or the same grace or the same break that even somebody from the outside would," says Richard Shaw, a therapist in the Portland, Oregon, area. "Every time I ask this question, 'Who is your worst critic?', it's always 'me.' I'm always harder on myself than I am on other people. I'm always my worst critic."
Strauss admits he didn't do much to help himself. He didn't pursue therapy with another counselor. He didn't engage in religion -- he grew up in a secular household and had no contact with clergy. ("I think I'm too meek to shake a fist at God," he says.) He rationalized, noting that he was fortunate to walk away from the accident and that he should just move on.
"Society isn't good at dealing with people who have something concrete to feel guilty about, or who are dealing with a loss," he says.
Indeed, as a memoirist, he sought to understand his own behavior and motivation. In the book, he often seems a figure in shock, aware of "performing." He's ashamed of inappropriate actions, such as a spur-of-the-moment visit to the dead girl's parents. At other times he seems OK on the surface but emotionally fraught internally, his shame manifesting itself physically in an early onset of gray hair and an operation to fix a gastrointestinal problem.
"I was eating myself out from the inside," he writes.
'Like one of those discs that play over and over'
Shock and trauma are often an offshoot of causing an accidental death.
In 1986, John Tolman, a veteran train operator for Amtrak, was at the throttle of a train rolling along the corridor from New Haven, Connecticut, to Boston. As he rode through Kingston, Rhode Island, a man drove his car into a crossing. Though Tolman slammed on every brake he could, his train hit the car at 70 miles per hour. ("There was nothing you could do," he says, a mantra for these kinds of accidents.)
After the train finally stopped, Tolman started down the ladder of the locomotive but was stopped by his engineer. "You don't want to go back there," he was told.
Four years later, his train, rounding a curve, injured two teenagers carrying mopeds over the tracks in central Connecticut.
"I remember seeing one of them kind of fall down on the tracks. I'm screaming -- I've already put the train in emergency -- I'm just blowing the whistle hoping they get the heck of the way," he recalls. The other teen bent to help his fallen friend; Tolman screamed as his locomotive got closer.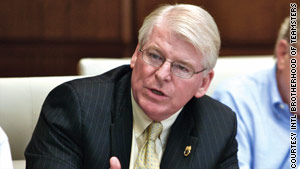 In 1986, John Tolman's train hit a car at a crossing. "The recovery took awhile," he said.
"We strike something -- you don't know what you struck, because you lose vision about 22 feet in front of you because of the height (of the engine). You know you hit something because you hear a thump, and I'm on the radio calling emergency because we struck something."
A trainee riding with Tolman ran back toward the incident site. As Tolman followed, he saw a pair of empty sneakers on the track.
It turned out the teens had made it across and had only suffered minor injuries, but Tolman remained shaken.
"For the first incident, the recovery took awhile," says Tolman, who was moved to become involved in addressing the effects of traumatic incidents after his own experiences and is now a legislative advocate for the Brotherhood of Locomotive Engineers and Trainmen, a railroad employees' union.
"But there was no (treatment) program in place. You were expected to get back on the horse. Even now, there are many who prefer to get back quickly, but I don't believe that, with the trauma, you're ready to get back (immediately)." Nowadays, he says, Amtrak will relieve the affected employees on site and give them a minimum of three days off.
It's important to address the trauma quickly, says Dr. Gaby Cora, a Miami psychiatrist. Guilt over an incident may turn to shame -- the lens through which you see your whole life -- and then it becomes hard to free yourself.
"They continue to carry those memories, and then they get stuck. They can't let go," she says. "The memory is so vivid that it's like one of those discs that play one part over and over."
Blameless events seem to strike particularly hard. While Strauss was researching his book, he was told that about 2,000 auto accidents a year kill "dart-outs," incidents in which the driver has no chance to avoid a pedestrian. (The highest percentage of dart-outs are 5-to-9-year-old boys, according to the National Highway Traffic Safety Administration.) According to a study, those drivers are more likely to suffer from post-traumatic stress disorder (PTSD) than drunken drivers, says Strauss.
The Rev. Gregory LaDue, a Vietnam veteran, therapist and Methodist minister based in San Diego, has seen that kind of anxiety take its toll. Like Strauss, some had severe gastrointestinal problems; others had cardiac issues. A handful developed a form of psychosomatic illness called "glove paralysis," in which one hand, associated with a shameful event, becomes paralyzed.
"When something happens and it's random, one of the most difficult things to deal with is the capriciousness of life. This is a big part of our struggle as human beings," he says. "Our sense of control is shaken."
In the railroad industry, over the course of a 25-year career, an operator may experience three incidents, says Tolman. There's a high incidence of PTSD in the business, he adds.
Peer intervention is encouraged, says Tolman. "There's nothing better than talking to one of your co-workers who has already been through the same thing."
'I have a story to share with you'
Sometimes, the hardest thing is developing the courage to talk.
In 2003, Shelly Cotten took her mother to a routine outpatient procedure. The next day her mother had a heart attack while recovering at home. Cotten, afraid to do chest compressions, blamed herself in part for her mother's death by dwelling on what-if possibilities: "Maybe if I had done chest compressions, it would have made a difference," she says. "Maybe she shouldn't have had the surgery."
Initially, she wasn't comforted by the reassurances of others. "Of course you're telling me that -- you don't want me to go crazy," she remembers thinking. She was convinced her siblings blamed her; her grief gave her insomnia. "The fact that I was hiding it from everyone didn't make it any better," she says.
It was only after she brought up her fears to her siblings and discovered they didn't blame her that the New Jersey-based nanny and personal assistant could start to move on.
Professional counselors say that telling the story is key to the process of forgiving oneself.
"You need to be able to help the person get it out of their system first. Otherwise, it can pile up," says Cora, whose patients include kidnap victims and 9/11 survivors. "Then you have to help them pick up the pieces and become whole again, whether it's (confiding in) a trusted clergyperson, a therapist, a trusted nurse or a neighbor, whether it's a parent ... it can be helpful."
Strauss has seen that in the reaction to his book. "Every time I've ever done a reading about this, someone comes up and says, 'I have a story to share with you.' It's so much more personal. People want to unburden themselves," he says. He was even asked by Oprah Winfrey's producers to appear on Winfrey's talk show, but asked to serve as a counselor himself, he declined.
The process may take time, and there's no doubt it can be painful, says LaDue. But it's worth it.
"I honestly, truly believe, at our deepest core, we want to be healed -- and our bodies, for the most part, are designed to heal," he says. "Our psyches and our souls always want to be whole, but it takes a little more cooperation for our psyches and souls to be healed."
Above all, says Strauss, you have to be honest with your worst critic -- the conscience looking over your shoulder. After he showed "Half a Life" to his publisher, Strauss was urged to remove parts in which he appeared unsympathetic: He went to the movies a few hours after the accident. He visited Zilke's parents, unannounced, regretting doing so as soon as he knocked on the door. He wondered how others would see him, then castigated himself for not thinking of Zilke.
But those parts, he believed, were important to the story, and he adamantly kept them in. It's that kind of recognition of our pettiest behavior that allows us to be most human, he says.
"The parts that my editor thought that people would come after me for, are the parts that people have written me (about), saying they've related to me most at those moments," he says. "It's human to screw up."