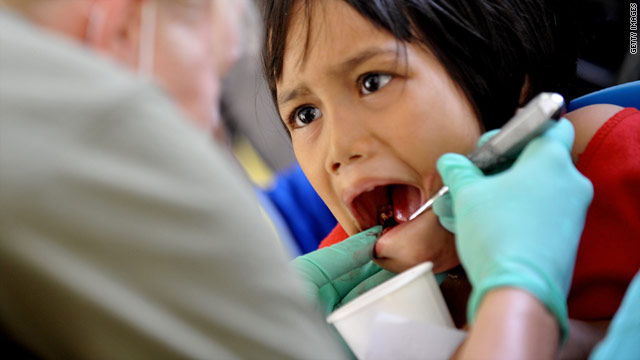 STORY HIGHLIGHTS
Survey finds the national going rate is down from $3 to $2.60
10% of kids did not get a visit from the Tooth Fairy this year
Kids in the West fare the best; in the eastern U.S. the worst
(CNN) -- Getting the Tooth Fairy to pony up in this sagging economy has been like pulling teeth.
A recent survey found that the national going rate has seen a 40-cent decline this year: From $3 to $2.60.
What's worse? A full 10% of kids are reaching under their pillows ... and coming up empty. Compare that to last year when just 6% of kids found no reason to flash that toothless grin.
"It's a cardinal sin not to (pay)," said Rakshanda Liaqat, a mother of two in Phoenix. "It's about a child losing a part of her and the warm belief that the tooth fairy will take care of her precious tooth."
"Now, on the other hand, counting the number of teeth your kid loses. And that, too, multiple times in a year? And that, too, having two kids? I can understand the economic recession the Tooth Fairy goes through in terms of her salary."
Liaqat tried to leave $10 for every tooth her son lost -- "but my son didn't lose much of his teeth after the recession hit."
"He lost it right on time. Before the debt crisis," she said. "Amen to that!!"
The telephone survey of 1,006 adults was conducted on behalf of Visa and is intended to get parents talking to kids about money management.
It found that the economic pinch has taken a bite out of the Tooth Fairy's generosity most dramatically in the eastern United States. Kids there received just $2.10 -- a 38% decline from $3.40 last year.
In the West, kids pocket more than the national average: $2.80 and up 4% from last year's $2.70.
That doesn't surprise Scott Rivers in San Diego.
He leaves about $5 for every tooth his children lose.
"It's worth it just to see their eyes light up," he said. "Plus, it gives us a chance to talk about what they want to do with the money and what they should. Like donating a bit to charity."
But he's in the minority. Just 18% of kids around the nation receive $5, the survey found.
The majority -- 36% -- receive a dollar or less.
And 18% get between $2 and $4.
"My 6-year-old niece just lost her first tooth last week and her parents gave her about $2 in coins," said Jeanne Byrd of Fairfield, California. " Our family has never really given large dollars for the tooth fairy though."
Among the survey's other findings:
-- Kids in the Midwest receive an average of $2.80, a 3% decrease from last year's $2.90
-- But children in the South find the Tooth Fairy penny-pinching as well: $2.60 -- a 21% cut from last year's $3.30.
CNN's Maria P. White contributed to this report.
FOLLOW THIS TOPIC