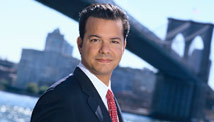 STORY HIGHLIGHTS
John Avlon says even calls for civility have been attacked in the wake of the Arizona shootings
He says Rep. Gabrielle Giffords was among those long warning about rise in violent rhetoric
Avlon: Right, left couldn't agree on condemning such speech, instead using it to blame others
Avlon: We must learn from incident and stop using violent gun imagery in discourse
Editor's note: John Avlon is a CNN contributor and senior political columnist for The Daily Beast. He is the author of "Wingnuts: How the Lunatic Fringe Is Hijacking America."
(CNN) -- In the wake of the Tucson tragedy, even calls for civility are being politicized.
Common-sense criticisms of the rise we've seen in violent campaign rhetoric and imagery and threats are themselves attacked.
This ironically ignores the work of the wounded congresswoman for whom we are all praying. Gabrielle Giffords is a centrist Democrat representing a primarily Republican district, committed to reaching across the aisle in a spirit of civility and finding solutions.
The day before a lunatic put a bullet in her head, Giffords was e-mailing with outgoing Kentucky Republican Secretary of State Trey Grayson, and wrote, "I would love to talk about what we can do to promote centrism and moderation. ... (W)e need to figure out how to tone our rhetoric and partisanship down."
Her concerns came from harsh experience. Remember that in 2009's overheated hyper-partisan environment, the last Congress confronted an unprecedented number of death threats. Some of these were directed at Republicans, but the vast majority were aimed at Democrats.
Some lawmakers were hung in effigy and in one case, a gas line was cut at a family member's house. Others had swastikas painted on their district offices or bricks thrown through their office windows. Giffords' aides called the cops when someone dropped a gun at one of her town halls. Despite these incidents, our Congress proved so polarized that congressional leaders could not agree on bipartisan language to condemn the threats.
Giffords was "targeted" during the campaign with metaphorical cross hairs printed on a map over her district by Sarah Palin and by left-wing groups that encouraged liberals to target her for a primary challenge.

New ammunition clip ban proposed

Journalist questions U.S. gun laws

Bringing the left and right together

Arizona shooting: A nation heals
Giffords warned about the danger of the association at the time, saying: "We're on Sarah Palin's targeted list. ... But the thing is the way that she has it depicted has the cross hairs of a gun sight over our district. When people do that, they've got to realize there's consequences to that." She was proven painfully right.
But when her friend Pima County Sheriff Clarence W. Dupnik spoke out about "the rhetoric about hatred, about mistrust of government, about paranoia of how government operates" that could take hold in "unbalanced minds," he was dismissed by defensive professional partisans as a Democrat or attacked as an "anti-conservative."
Likewise, some liberals lost little time in looking for partisan advantage in the wake of the attack, trying to associate Jared Loughner with the Tea Party or to somehow blame Palin, ignoring some instances in the past of their own usage of gun target imagery.
Rush Limbaugh even took aim at No Labels -- a coalition of Democrats, Republicans and independents committed to confronting hyper-partisanship that I helped co-found in December.
He said: "This guy, the shooter, is a No Labels guy, he's an -- he's a registered independent. Registered Independent. This mass murderer, a registered independent, he was part of the No Labels group. Atheist, no party affiliation, read Marx, liked flag burning. What a conservative this guy is, huh? Loughner made to order for No Labelers. And he's a murderer."
In the flurry of finger-pointing, we lost sight of the obvious: that we should be able to agree that the increase in violent gun rhetoric needs to stop. Republicans need to criticize someone such as Sharron Angle when she spoke of "Second Amendment remedies" during her campaign against Senate Majority Leader Harry Reid, and Democrats need to condemn someone such as ex-Rep. Paul Kanjorski who said that Floridians should put then-gubernatorial candidate Rick Scott "against the wall and shoot him."
But both parties seem more obsessed with scoring political points by proving the other side wrong. This ensures no progress will be made. Instead of playing the victim card and claiming "blood libel," Palin could have resolved not to use the target imagery again as part of a reset in American politics--given that it was both unwise and unstatesmanlike in retrospect.
But even Republicans seem afraid to say the target images were inappropriate for fear of offending their base. There is no serious discussion about changing the tone of Washington. And forget about legislative remedies, such as the one courageously put forward by Rep. Pete King, R-New York, that would ban anyone from carrying a gun within 1,000 feet of a federal official. It was declared dead on arrival by the GOP leadership in Congress.
Sadness over the attack is to be encouraged, prayer loftily put forward to soothe the victims' families, but these must be accompanied by concrete solutions and a real determination to raise the level of the civic debate in our nation.
And so the beat goes on. A South Carolina company had produced a limited edition AR-15 assault rifle with the phrase "You Lie!" engraved on one of its parts to commemorate Rep. Joe Wilson's outburst at President Barack Obama during a joint session of Congress. (The company has stopped selling the part.)
A California man was arrested after allegedly making a threatening call to Rep. Jim McDermott, D-Washington, in which he's alleged to have said, "Thomas Jefferson, James Madison, or George Washington, Alexander Hamilton, if any of them had ever met Jim McDermott, they would all blow his brains out. ...They'd shoot him, in the head."
If we really want to honor Giffords, we need to show that this attack has made us wiser as a nation. We need to break the habit of excusing violent or extreme rhetoric that comes from "our side" while attacking any infraction from the other.
That's why the president was right to say in his speech Wednesday night: "Rather than pointing fingers or assigning blame, let us use this occasion to expand our moral imaginations ... to sharpen our instincts for empathy, and remind ourselves of all the ways our hopes and dreams are bound together."
The opinions expressed in this commentary are solely those of John Avlon.
FOLLOW THIS TOPIC