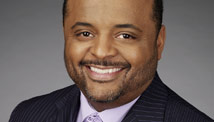 STORY HIGHLIGHTS
Roland Martin: Free speech also means freedom to stand up for a more civil debate
If we are to embrace civil discourse, that means not falling into old habits, Martin writes
Rep. Gabrielle Giffords, the day before she was shot, wrote about toning down the rhetoric
Editor's note: Roland Martin is a syndicated columnist and author of "The First: President Barack Obama's Road to the White House." He is a commentator for TV One Cable network and host/managing editor of its Sunday morning news show, Washington Watch with Roland Martin.
(CNN) -- The conventional wisdom in the wake of the emotional and impressive memorial service for those killed in Tucson at the hands of a deranged gunman is that despite pleas for civility, we will return to the pre-shooting days of yelling, screaming and highly-charged partisanship.
In his speech to the nation, President Obama, acting as the healer-in-chief, called on all Americans to rise above the nonsense of making politics a rhetorical blood sport and have a civil debate on the issues.
"I believe we can be better. Those who died here, those who saved lives here -- they help me believe," Obama said. "We may not be able to stop all evil in the world, but I know that how we treat one another is entirely up to us. I believe that for all our imperfections, we are full of decency and goodness, and that the forces that divide us are not as strong as those that unite us."
More opinion on topics in the news
The knee-jerk reaction from many in the call for civility is to say that the First Amendment gives them the right to say what they want, when they want. But freedom of speech also gives all of us the right to say no, you're not going to talk to me that way, and we can probe and debate, yet do so without all the rancor and bitterness.
What I found laughable was to listen to my colleagues in the media talk about this need for civility, yet many of us fan those flames by booking, promoting and giving more airtime to those who rant and scream at the top of their lungs.
In the world of TV and radio, you'll hear someone say, "Now that was a hot discussion! Can you come back tomorrow night?" Forget that the discussion ended up as being nothing but an attack on the other person, savagely ripping into "those liberals" or "those conservatives." What often happens is the issue at hand is ignored, and folks walk away from a fight where no one benefits.

Arizona tragedy blame

Victim visits Tucson memorial

When the mentally ill turn violent

Tucson shooting suspect rants on video
I've never been one who has shied away from being passionate about an issue, but as a responsible individual, always accepted the reality that what I say matters. People do listen. Folks form opinions based on what is said. And we can ramp up their blood pressure up higher and higher, or we can say, "That was a spirited debate. Now let's go and get a drink."
If we are to embrace the notion of civility and humility in our discourse, that means not falling into our old habits. I was impressed that Roger Ailes, head of Fox News Channel, relayed to Russell Simmons' GlobalGrind.com what he told his staff after the Tucson shootings: "I told all of our guys, shut up, tone it down, make your argument intellectually. You don't have to do it with bombast. I hope the other side does that."
Who knows if this edict will be photocopied and posted in the office of every Fox talk show host, and throughout its newsroom, to serve as a reminder to everyone when the nation moves further and further away from the shooting?
And he's correct; those who vehemently oppose the views of Fox News and conservative radio hosts must also adhere to the president's call for civility.
Maybe what we should all do is make "Remember Gabby and the Tucson 6" buttons, T-shirts, and bumper stickers, as a way to stop someone in his tracks who chooses to get out of control.
It was the attempted assassination of the Rep. Gabrielle Giffords, a moderate Arizona Democrat, that ended up costing six others their lives, and left another 13 wounded.
And it was Giffords herself who openly discussed the toxic political dialogue that resulted in death threats against her in an email a day before the shooting.
"After you get settled, I would love to talk about what we can do to promote centrism and moderation. I am one of only 12 Dems left in a GOP district (the only woman) and think that we need to figure out how to tone our rhetoric and partisanship down," Giffords wrote to Republican Kentucky Secretary of State Trey Grayson to congratulate him on being named director of Harvard's Institute of Politics.
Yes, we know the actions of the mentally ill shooter weren't tied to the heated political rhetoric played out on radio, TV and online, but it still isn't a healthy environment.
As Giffords heads for a long recovery, "Remember Gabby and the Tucson 6" should constantly ring in our ears.
Let's have vigorous debate over the issues. But let's do so as adults, and not as petulant, out-of-control children.
The opinions expressed in this commentary are solely those of Roland S. Martin.
FOLLOW THIS TOPIC