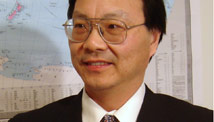 STORY HIGHLIGHTS
Chinese commercial appears on massive screens in New York's Times Square 300 times a day
Critics claim the ad is "more scary than friendly"
Campaign a sign that China is trying to win over Americans with "soft" diplomacy
Editor's note: Liu Kang is dean of the Institute of Arts and Humanities at Shanghai Jiaotong University and a professor at Duke University.
Durham, North Carolina (CNN) -- Beauty is in the eye of the beholder: So goes the proverb, in both Chinese and English.
As China's president, Hu Jintao, visits Washington, the Chinese government has launched a publicity campaign waged with a commercial on CNN, and shown on six giant screens across New York's Times Square.
And the U.S. media's reaction? A Wall Street Journal blogger calls it "out of touch with its American audience," and quotes a U.S. executive's view that the commercial "was more scary than friendly."
Passersby can't miss the video; it runs 300 times a day -- that's 8,400 times between now and Valentine's Day. Commonplace, perhaps, if the ad was for Christian Dior or Nike, but it is certainly a novelty to see a political campaign ad by a foreign government, no matter how "soft" the content, blitzing over the heart of capitalism. Especially when that government is Chinese -- and Communist.
China is as adept and media-savvy as the Obama generation when it comes to 'soft' warfare
--Liu Kang
What this shows us is the immense gap between the political culture in China and the U.S., shaping the ways by which the two countries view each other, and how they identify themselves.
The CNN commercial is a symbol of change, of the changing ways of diplomacy and "big country" politics. Americans would sense the nuanced, but clear message that China is as adept and media-savvy as the Obama generation, quickly learning the American way of waging "soft" warfare.
Catching the eye of the U.S. using charm offensives may not alter the political perception of most Americans about China immediately, but a trickle-down effect, gradually narrowing the perceptual and psychological gap, is likely in the long run.
Opinion polls show just that. Shanghai Jiaotong University's National Image Project recently completed a survey of American perceptions of China, and the results offer a refreshing outlook on the issue.
Compared to Japan, India and Russia, China predictably ranked last when respondents were asked which countries they had favorable feelings for. Yet with an overall score of 47.97%, China rated only 2% lower than Russia (50.2%) -- almost negligible given the margin of error. Similar Pew Foundation surveys over the last five years show a progressive trend of rising favorable feelings among Americans.

U.S., China to discuss weighty issues

American teen lives in China

Cupcakes and rock 'n' roll in China

China looks to sustain economy
The Shanghai survey showed 55% of Americans think China "has a political system that serves the needs of its people" and 61% agree that China has been influential in world politics. More than three-quarters of Americans (77%) think that influence will grow over the next 10 years. Yet an overwhelming majority -- 80% -- of Americans believe China "withholds political rights from its citizens."
So why such a great difference over China's politics? The survey showed a marked divide in political values and beliefs: 87.9% of Americans think freedom of speech is vital in criticizing the government's wrongdoings; 46.2% agree that individual interests should be secondary to collective interests, while 52.6% disagree. Nevertheless, when Americans are asked if "for the sake of national interests, individual interests could be sacrificed," the scale is reversed: 53.4% approve, and 45.4% disapprove.
Patriotism is most pronounced when it comes to national interests. While most Americans (71.8%) consider China an ally or neutral, a strong majority (62.7%) think the Obama administration is not tough enough in economic negotiations with China, and 78% think the U.S. President should meet the Dalai Lama even though such meetings would jeopardize US-China relations. Likewise, 58% of Americans think the U.S. should sell weapons to Taiwan even though it would worsen U.S.-China ties.
When it comes to so-called "core values" and national interests, Americans won't budge. In today's world, those values and interests are sifted through images, narratives, and comments, and misunderstandings and even demonization can arise when the U.S. media cover China, and Chinese media cover the U.S.
The survey asked Americans to identity the source through which they most frequently receive news about China. The ranking: television (39.8%), newspapers (31.5%), the Internet (23.1%) and radio (17.25%).
In another survey conducted by Shanghai Jiaotong University on foreign correspondents in China, 45.7% of TV reporters complained about Chinese government restrictions on their reporting.
Television's live coverage is the most direct, immediate way of presenting a national image, and the China commercial shows the Chinese government's increasing awareness of that importance.
There's a long way to go to change the view of the beholders, let alone the perceptions that have taken years to formulate, but Chinese efforts to reach out to Americans through the U.S. media (albeit using paid ads) should not be dismissed as mere propaganda.
The opinions expressed in this commentary are solely those of Liu Kang
FOLLOW THIS TOPIC