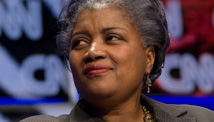 STORY HIGHLIGHTS
Traditionally, members of Congress sit with their own party at State of the Union
Members from opposing parties are planning to sit together this year
Donna Brazile says the Udall family had a role in promoting civility
It's good for the country that people of different views sit together, she says
Editor's note: Donna Brazile, a CNN contributor and a Democratic strategist, is vice chairwoman for voter registration and participation at the Democratic National Committee, a nationally syndicated columnist and an adjunct professor at Georgetown University. She was manager for the Gore-Lieberman presidential campaign in 2000 and wrote "Cooking With Grease."
Washington (CNN) -- It figures it would take the Udall family to bring a touch of good-naturedness to the center of American government and politics -- the U.S. Congress.
Prodded by the tragedy of the Tucson, Arizona, shooting, Sen. Mark Udall, D-Colorado, has enthusiastically embraced the centrist idea proposed by Third Way to foster an era of Congressional civility by inviting a Republican to sit with him during the State of the Union.
Though there are no assigned seats, the event traditionally has partisan seating, where one side wildly applauds the president, while those on the other side sit on their hands. Or sometimes yells, "You lie!" or even boos the president of the United States.
The GOP's 2008 presidential candidate, Sen. John McCain, R-Arizona, announced he will be sitting with Udall's cousin, Sen. Tom Udall, D-New Mexico. McCain told CBS' "Face the Nation," "It might be nice to cut back a little bit on all the jumping up and down," which he likened to a cheerleading rally.
Mark Udall's father and Tom's uncle was the late Rep. Morris Udall, D-Arizona, who the Washington Post called an "immensely witty and universally respected" representative. The good-humored Udall ran for president in 1976 and pundits have not seen the likes of him since the joke-telling Abraham Lincoln ran for office.

What will Obama say in State of Union?

Former speechwriters offer Obama advice

Date of the Union?

State of the date
Of course, friction between members of opposing parties has always existed to some degree. Author Carl Sandburg relates the story that Lincoln found himself staying in the same hotel as a Democratic Illinois state senator, one Mason Brayman. Lincoln invited Brayman to join him for dinner.
Admirers of Lincoln, a Republican, stopped by their table. Brayman later told friends, "Lincoln turned half round (and) introduced me as a Democrat, but one so good tempered that he and I 'could eat out of the same rack without a pole between us.' "
For more than a few decades, breaking bread together has rarely been common between Republican and Democratic legislators. In fact, they not only do not eat together, they often find it hard to eat in the same room, unless appearing at the Gridiron Dinner.
When I saw Sen. Joe Lieberman, the Connecticut independent, before his appearance on "This Week" with Christiane Amanpour, I inquired about his date. Lieberman informed me, "Like my prom, I haven't figured it out yet." Later, I suggested calling newly re-elected write-in candidate Sen. Lisa Murkowski, R-Alaska.
To date, more than 60 members have signed up to sit next to one of their colleagues from a different party. Democratic New York Sen. Charles Schumer has invited Republican Sen. Tom Coburn of Oklahoma, who has accepted. While acknowledging that sitting together is symbolic, Schumer added, "Maybe it just sets a tone and everything gets a little bit more civil."
The Udalls' good will has caught on. And the press is having fun, detailing who is sitting with whom, under headlines like: "Who's Got a Date to the State of the Union?" Amanpour, who asked Lieberman about his date, caught Texas GOP Sen. Kay Bailey Hutchison off-guard when she asked her this Sunday, "Who's your date?"
"I haven't been there. I don't have a date," Hutchison admitted.
Sen. Kent Conrad, a North Dakota Democrat, also on the show, piped up and said, "Kay, I'm available."
No word yet if that invitation was accepted.
"I asked one of my best girlfriends to be my date for the night," Sen. Mary Landrieu, a Louisiana Democrat, told The New York Times. That would be Maine's moderate Republican, Sen. Olympia Snowe. Landrieu suggested they might "triple date" with "really great guys" like Republicans Bob Corker of Tennessee and Johnny Isakson of Georgia.
Even opposite pole senators such as Democrat Bob Casey and Republican Pat Toomey are sitting together as the Pennsylvania delegation. That pattern is also being followed by Illinois' two senators, Richard Durbin and Mark Steven Kirk, and the entire Colorado and Arizona congressional delegations.
Toomey and Casey issued a joint press release, each declaring, "I look forward to working together and hope the bipartisan spirit will continue for all members of Congress."
Former House Speaker Thomas "Tip" O'Neill and President Ronald Reagan would be proud of their heirs -- Democrats and Republicans alike -- for truly demonstrating what civility could look like. We don't all have to agree with each other, but for the good of the country, it's important that we sit together as Americans. After all, this could be good for the country, too.
The opinions expressed in this commentary are solely those of Donna Brazile.
FOLLOW THIS TOPIC