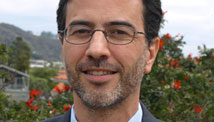 STORY HIGHLIGHTS
Bombing at Moscow's Domodedovo airport has shaken Russians, says Daniel Treisman
He says such acts strike at the heart of Vladimir Putin's rationale for holding power
Putin came to wide attention by promising to provide security for Russians, he says
Treisman: The airport is a symbol for Russian middle class that uses it for pleasure trips
Editor's note: Daniel Treisman is a professor of political science at the University of California, Los Angeles, and author of "The Return: Russia's Journey from Gorbachev to Medvedev."
(CNN) -- The explosion in Moscow's Domodedovo airport, which killed 35 people and injured 110 on Monday, has brought home to Russians once again their vulnerability before a shadowy terrorist network that apparently can strike at will deep in the Russian heartland.
No group has yet claimed responsibility, and police have not identified the perpetrators. But to most Russians, the trail seems likely to lead to the North Caucasus, where a jihadist insurgency has been fighting to establish an Islamic emirate, with Russian law replaced by sharia.
The authorities' failure to prevent such attacks strikes at the heart of the mystique that Prime Minister Vladimir Putin has cultivated in his years in power.
The former KGB colonel first connected with Russians when he appeared on television screens 11 years ago promising to hunt down and liquidate the terrorists who had planted bombs in four apartment buildings, killing almost 300 Russians in their sleep.
When his popularity subsequently surged, many put this down to Russians' desire for a strong leader who could keep them safe. As ex-President Boris Yeltsin later explained it: "People believed that he, personally, could protect them."
Ever since, Putin has positioned himself as the man who could impose a tough stability on the North Caucasus and fight the terrorists there before they could bring the battle to Russia's cities.
Putin has positioned himself as the man who could impose a tough stability on the North Caucasus and fight the terrorists there.
--Daniel Treisman

Medvedev: No one is immune to terrorism

Moscow's history of terrorist attacks

Russia's airport bombing investigation
But one painful war in Chechnya and many terrorist attacks later, that claim is wearing thin. Terrorist strikes and murders have apparently decreased in Chechnya under its brutal ruler Ramzan Kadyrov (possibly because there is no comprehensive and reliable accounting). But the violence has mushroomed in neighboring Ingushetia, Dagestan, and Kabardino-Balkaria.
And a series of bloody incidents has shaken the composure of Muscovites. Most recently, terrorists derailed a Moscow-St Petersburg express train in November 2009, killing 27 travelers; then in March 2010 others set off explosions in the Moscow metro, killing 40.
While the metro bombing shocked all Muscovites equally, Domodedovo will hit the new middle class and the rich particularly hard. For them, Domodedovo's international terminal has been a magical escape route out of the aggravating and sometimes grisly reality of 21st century Russia.
No freedom won in the 1990s has been as gratefully exploited as the right to fly away from time to time. The country's elites -- from politics, business, the arts and entertainment -- regularly pass through on their way to London apartments, Paris boutiques and Italian opera.
So far, Russians have reacted stoically to terrorist attacks. Throughout the last decade, the failure to provide security and cope with terrorism has fallen low on the list of public complaints against the government. The latest poll, in November 2010, placed it ninth, mentioned by just 12 percent of respondents.
Economic issues dominate. With incomes steadily rising and unemployment low, approval of Prime Minister Putin and President Medvedev has remained extremely high. Recognizing this, they have pulled out all the stops to shield Russians from the global financial crisis, raising pensions by more than 35 percent last year.
For those already disillusioned with their leaders, however, the attack illustrates once again the ineffectiveness of the country's law enforcement agencies. No government can completely protect its citizens from terrorists, yet many Russians are not sure that theirs are really trying.
Since 2001, pollsters have regularly asked Russians whether their personal security had increased or decreased in the preceding year. Each time, at least four times as many saw deterioration as saw progress. Twice as many say law enforcement agencies have become less effective as say their work has improved.
A surprising number even suspect the security services of complicity in terrorist incidents. In April 2010, right after the metro bombing, 23 percent thought it somewhat or very likely the secret services had themselves had a role in organizing the attack.
Amid this cynicism, Putin and Medvedev no longer even pretend that law enforcement agencies are doing a good job. Medvedev often sounds like an opposition politician with his denunciations of the corrupt and ham-fisted bureaucracy. Last November, he lashed out at the police, saying their statistics showing crime falling in the North Caucasus were "nonsense."
The sense that the authorities do not have control was palpable last month, when thousands of football fans and xenophobic nationalists rioted in central Moscow, assaulting dark-skinned passersby. The pretext was the release by police of several suspects from the North Caucasus who had been arrested after an ethnically Russian football fan was shot in a brawl.
The Domodedovo attack threatens to inflame ultranationalist feeling even more. One anti-immigrant group rallied in Moscow on Tuesday, demanding "collective responsibility" for families of terrorists and limits on travel for natives of the North Caucasus.
As Russia heads towards parliamentary elections later this year, preventing more terrorist attacks while rebuilding trust and forestalling ethnic violence will be a continuing challenge for the Kremlin.
The opinions expressed in this commentary are solely those of Daniel Treisman.
FOLLOW THIS TOPIC