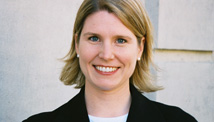 STORY HIGHLIGHTS
Amy Wilkinson says Obama promised to out-innovate, out-educate, outbuild rest of world
She says he took good step to enhance entrepreneurial edge with StartUp America
This public-private partnership helps, but U.S. also needs to increase visas, boost education
Wilkinson: Ease corporate governance rules for small biz; push exchange of ideas
Editor's note: Amy Wilkinson is a senior fellow at Harvard University and a public policy scholar at the Woodrow Wilson International Center for Scholars. She is writing a book on global entrepreneurs.
(CNN) -- In his State of the Union address, President Obama pledged to "out-innovate, out-educate and out-build the rest of the world." But what will it take to enhance America's entrepreneurial edge?
This week, the White House took a step in the right direction by announcing Startup America, a public-private initiative to help new businesses. But that is just a start. We need more fundamental reform.
Startup America includes some good ideas, like permanently ending capital-gains taxes on certain small-business investments and expanding the New Markets Tax Credit. The Small Business Administration will allocate $2 billion to match private-sector investments in small-business startups.
The Departments of Commerce and Energy will expand efforts to commercialize clean technologies and increase clean-tech mentorship programs. Further, the Department of Veterans Affairs will help train veterans to be entrepreneurs.
These initiatives will be helpful, but they don't go far enough to bolster the underpinnings that have made our innovation economy great.
To jump-start job creation and large-scale entrepreneurial growth, government must do better in four areas:
Welcoming foreign-born entrepreneurs. Even though a significant percentage of successful U.S.-based high-tech companies have been founded or co-founded by foreign-born immigrants -- Google and eBay are two of the best-known examples -- America's visa policy thwarts this job-generating population.
Roughly a million highly trained workers will have to leave the United States after their six-year H1B visas run out. If we gave a green card to every immigrant who earned a scientific or technical degree from an American university, about 70,000 highly trained professionals would have a chance to stay in the United States and build their innovation ideas here.
Advancing entrepreneurship education. Recent Kauffman Foundation data show that more than 40 percent of young adults age 18 to 24 have an interest in starting a business. We must foster the next generation of innovators by teaching them much-needed skills. Network for Teaching Entrepreneurship is a model high-school program.
At the university level, the Massachusetts Institute of Technology's Venture Mentor program is one of the most successful of its kind. We must expand these and other programs. Whether through community college programs or after-school learning centers, we must encourage fledging entrepreneurs and enhance their skills.
Easing corporate governance requirements on smaller companies. America needs businesses that can grow rapidly. To do this, companies need capital. In the past, such entities have looked to IPOs, or initial public offerings, to raise funds. Yet in the wake of the Enron, WorldCom and Tyco scandals, Congress enacted the Sarbanes-Oxley Act, which places a disproportionate burden on small businesses because of auditing and corporate governance costs.
In recent years, a number of startups have opted to sell to bigger firms instead of issuing IPOs. YouTube, for example, sold to Google, yet many believe it could have done better on its own. One solution would be to exempt smaller companies from Sarbanes-Oxley altogether. Another would be to allow small businesses to meet less-onerous requirements.
Increasing collaboration among universities, government and business. In the search for the next technological breakthrough to take us beyond the Internet era, we must encourage cross-fertilization of research. We should expand professional exchanges among academics, business leaders and government researchers.
Instead of working in silos, we must build online and offline networks to rapidly diffuse cutting-edge ideas. Further, to encourage the commercialization of university research, federal government could make open-technology licensing a condition for receiving federal research dollars. Currently, the Bayh-Dole Act of 1980 requires faculty innovators to work through their own universities' technology licensing offices. This causes significant delays.
America's competitive position in the global economy will increasingly depend on our entrepreneurs. There is no time to waste. For those who don't realize it, the top 10 in-demand jobs in 2010 did not even exist in 2004.
The opinions expressed in this commentary are solely those of Amy Wilkinson.
FOLLOW THIS TOPIC