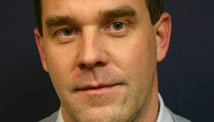 STORY HIGHLIGHTS
Peter Bouckaert says Wael Ghonim's TV interview brought new life to Egyptian protests
He says it let ordinary people hear a voice speaking over state media propaganda
State-run media had spread lies about protest's motivation and backers, Bouckaert says
Writer: Ghonim explained why it was important to take back Egyptian government
Editor's note: Peter Bouckaert is the emergencies director at Human Rights Watch.
Cairo, Egypt (CNN) -- Few things to date have energized popular Egyptian protests against President Hosni Mubarak as much as the emotional interview given by Wael Ghonim, a 30-year-old Egyptian internet activist, almost immediately after his release from 12 days of detention by the feared state security police.
It is fair to talk now about a second stage in the protests against Mubarak's government as thousands of ordinary Egyptians cast aside their doubts and joined to make the street protests the next day the biggest yet.
Why did this one interview, this one person, so galvanize the protest movement? Because it was the first time ordinary Egyptians heard a protest leader passionately defend the revolt, free from the vicious anti-protester propaganda of the state-dominated media. Journalists from the state controlled-media themselves joined the revolt and started reporting the truth.
For two weeks, Egypt's state-dominated media had engaged in a campaign of lies and slander against the democracy protesters, accusing them of being funded by outside conspirators as diverse as the American CIA, Iranian spies, Israel's Mossad, Qatar's Al-Jazeera television station and Hamas.
One television interview featured a fake "protest organizer" who claimed there were 23,000 guns inside the demonstrators' camp on Tahrir Square, and that the protest had been taken over by bearded fundamentalists/Islamists. The tactics, crude as they were, made many ordinary Egyptians doubt the sincerity of the protest movement and helped unleash a wave of xenophobic violence that gripped Cairo on February 2 and 3.

Ghonim: 'I'm proud to be Egyptian today'

Ghonim: Facebook to thank for freedom

The face of Egypt's revolution

Ghonim: Welcome to Egypt revolution 2.0
And then there was Ghonim on TV on Tuesday, disheveled, unshaven and blinking into the camera after so many days of being blindfolded in incommunicado detention, suddenly facing a national audience on one of Egypt's few semi-independent television channels.
He had been the driving force behind the Facebook page "We are all Khalid Said" -- dedicated to the memory of the 28-year-old Egyptian man beaten to death in Alexandria last year by two undercover policemen -- which soon became a central organizing vehicle for the mass protest movement that has shaken Egypt's ruling elite.
On January 27, the eve of the first of several massive Friday protests in which the police left the streets after daylong clashes, Ghonim literally disappeared into the dark hole of Egypt's security services.
Newly freed, now he faced the sympathetic broadcaster Mona Shazly. And for the next 45 minutes, Ghonim gave a passionate and uncensored defense of the protest movement he helped start, and whose impact he had been in the dark about until his release that very day.
He talked about the brutality of being forcibly disappeared, sitting in a cell for 12 days blindfolded, outside any legal framework, with his family searching hospitals and morgues because they did not know where he was -- exactly what thousands of Egyptians have experienced at the hands of state security.
One of his proudest moments, he said, is that he went home having convinced his captors that "we are not traitors, and no agenda moved us other than the love of our country." But by all accounts, he captured the imagination of a nation when he explained why it was so important that Egyptians take back their government.
"That's why we have to destroy the system, which is based on the theory that people shouldn't speak out, that this country is their country, so it's not your right to ask. No, it is my right to ask you. If you're a minister, you are a civil servant, you are an employee of the government. With all due respect, my taxes pay for your salary."
With this, he spoke to the Egyptian people: This movement represented the future. And the next morning, young and old came out to stand with him when he spoke at Tahrir Square.
The momentum is back in the hands of Ghonim's generation now. The propaganda of Mubarak's circle backfired, leading to mass resignations by journalists and increasingly courageous coverage by some of the semi-independent press.
Vice President Omar Suleiman, tasked with steering the faltering regime through this turbulent period, seemed bizarrely out of touch by comparison the next night, when Christiane Amanpour asked him if maybe, just maybe, the youth movement was sincere in its desire for more democratic rule. No, the emotionless general said, it's an "Islamic current who push these people. . . . It's not their idea. It comes from abroad."
But Ghonim's honesty will likely win the day with most Egyptians.
The opinions expressed in this commentary are solely those of Peter Bouckaert.
FOLLOW THIS TOPIC