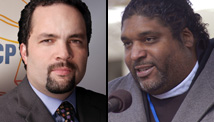 STORY HIGHLIGHTS
Benjamin Todd Jealous and Rev. Dr. William Barber II critical of Wake County, N.C., schools plan
They say Tea Party-backed idea for "neighborhood schools" would upend desegregation
Kids in diverse schools fare better on many measures, studies show, they say
Writers: We must fight back at this move, which threatens to spread to other states
Editor's note: Benjamin Todd Jealous is president and CEO of the NAACP. The Rev. Dr. William Barber II is the president of the North Carolina State Conference of the NAACP.
(CNN) -- The yearning to return to the antebellum South is not just being reflected in this year's celebration of the Confederacy, but also in growing efforts to reverse years of successful school integration.
Nearly 60 years ago, the Supreme Court ruled that state laws establishing separate public schools for children of color were unconstitutional.
Today, in the great state of North Carolina, where the Democratic Party will hold its next convention, we are fighting the same battle against a Tea Party-backed effort to send our children to separate schools.
In the last few months, extreme right-wing members of North Carolina's Wake County have advanced an agenda of "neighborhood schooling" that would drastically reduce school diversity and roll back years of progress and integration.
Neighborhood schools, when implemented, usually mean some children get public schools that are racially identifiable and high-poverty, while others get schools that are selective, highly resourced and in effect function as "private" schools for the white and affluent.
Research confirms that students in racially diverse schools do better in math and reading and display a marked increase in critical thinking. A 2006 study showed that the Latino and African American gains in math were much greater in diverse schools than in segregated ones.
Other studies have shown that diverse high schools have smaller gaps in reading than schools with few or no students of color.
In Wake County, they are trying to fix something that isn't broken.
In a school board survey, 94 percent of parents said they support the current system; 86 percent of all students already go to schools within 5 miles of their homes.
We cannot allow the North Carolina faction to roll back the clock to the 1950s. We know that separate is not equal; separate is unequal, immoral and detrimental to children of all races.
Many believe that education in a racially integrated environment enhances the ability of our work force to compete in a global marketplace. It was a diverse school system that produced great American leaders like Xerox CEO Ursula Burns and President Barack Obama, who would not have had the opportunity to thrive in a segregated system.
U.S. Secretary of Education Arne Duncan criticized the Wake County school board in a letter to the Washington Post.
"America's strength has always been a function of its diversity, so it is troubling to see North Carolina's Wake County school board take steps to reverse a long-standing policy to promote racial diversity in its schools," he wrote.
The Department of Education's Office for Civil Rights is investigating the board's decision, after the state chapter of the NAACP and other groups filed a complaint last year.
The great irony here is that the proponents of this campaign are so unwilling to learn from the past. Generally, Tea Party advocates have leaned hard on our nation's Constitution to defend their actions and beliefs. But the 14th Amendment to the Constitution ensures equal protection under the law for all citizens.
By promoting segregation, the Tea Party members are abandoning their own guiding document, as well as their ability to use the power of hindsight to make informed decisions.
Even late-night television hosts view the situation as laughable. "The Colbert Report" recently included a segment to highlight the absurdity of removing successful school diversity programs. Stephen Colbert remarked that the omission would "undo the doing of what was already done ... making the problem worse before making it better."
Those who dismiss this issue as a local concern should consider that Wake County is emblematic of a larger problem. School boards across the country, including Florida, Alabama, Georgia, Illinois and elsewhere in North Carolina, have problems with segregation or racial achievement gaps in classrooms.
And several like-minded school board members in those states are hoping to replicate the experiment unfolding in North Carolina. North Carolina could become a social justice battleground, just as Arizona has been in the immigration debate.
Wake County is becoming a symbol of attempts to return to the days pre-Brown v. Board of Education, just as 60 years ago, Birmingham, Alabama, woke the nation to the immoral costs of segregating our nation.
We must foster a sustained and outspoken opposition to turning the clock back. It is in America's best interests to march together toward the goal of quality schools for all children. In every fight, the NAACP has raised only one goal: to guarantee every child in America a high-quality, constitutional, diverse and well-funded education.
We cannot let Wake County become an unfortunate harbinger of things to come. We must rally together and ensure that our voices are heard. Americans' rights of life, liberty and the pursuit of happiness are closely related and interdependent.
Quality health care ensures that students are at their best to learn. Strong educational equality creates access to productive employment and innovation. These jobs create a pathway to home ownership and boost our economy.
This cyclic model highlights the basic needs of all of us. We invite all who hold an interest in securing these rights to join our efforts. Our legacy demands nothing less.
What a sad comment on our times that in 2011, people of conscience have to lock hands and demonstrate once again against segregation. But on Saturday, February 12, that is what we did, marching along with NAACP activists and members of over 100 other organizations to the State Capitol in Raleigh, North Carolina, to demand, among other things, that our schools remain desegregated.
The demonstration, called the Historic Thousands on Jones Street (HK on J) march, placed special emphasis on equitable school practices, economic injustice and equal protection under the law. The marchers rallied behind a chorus of "Forward Together, Not One Step Back." It is imperative that we bring that ideal to reality.
The opinions expressed in this commentary are solely those of Benjamin Todd Jealous and the Rev. Dr. William Barber II.
FOLLOW THIS TOPIC