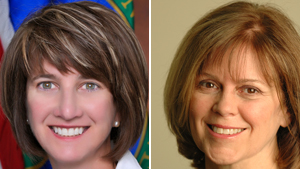 Kristina Johnson, left, and Kathleen Rogers
STORY HIGHLIGHTS
Rogers and Johnson: More women needed in science, tech, engineering and math careers
They say women worldwide need to be part of the movement to low-carbon global economy
Culture of science classroom, writers say, and lack of child care hobble many careers
What's needed is an international focus on getting women educated in sciences, they write
Editor's note: Kristina Johnson is former U.S. undersecretary of energy. Kathleen Rogers is president of Earth Day Network.
(CNN) -- Building a low-carbon economy is the scientific, political and moral challenge of our time, and a tremendous opportunity for women.
But are we marshaling the talent and resources necessary to tackle this problem?
Half of the population is not being encouraged to pursue studies that in addition to providing productive and rewarding careers, work on climate change mitigation to help save the planet for future generations.
As the 55th session of the U.N.'s Commission on the Status of Women begins this week, it's time to launch an international campaign to aggressively encourage and enlist women in the fight to make the world's economy low-carbon.
Women need to be recruited for leadership positions in renewable energy, urban planning, international sustainable development policy; life sciences and engineering in order to retool our traditional, carbon-based economy. Women are taking up leadership positions in government, nonprofit and increasingly in business and science, but not in sufficient numbers to match the enormity of this fossil-fueled-to-green-economy transition.
Women are important as leaders because of their collaborative approach to problem-solving and their position as role models for the next generation.
We need more women in science, technology, engineering and math careers (STEM). According to the National Science Foundation, women hold only 27 percent of the science and engineering jobs in the U.S. In business and industry, women hold only 21 percent of scientific and engineering positions. Similar, if not greater, imbalances are found among scientific professionals in other developed and developing countries.
At U.S. universities, only 25 percent of degree candidates in computer science are women. In a 2007 study, the NSF discovered that women make up more than half of students pursuing biological sciences and mathematics as undergraduates, but the percentage plummets at the post-graduate and doctoral levels. Only in biological sciences do women continue to hold their own at the doctoral level, representing 45 percent of those candidates.
In engineering, the numbers are even lower. Only 19 percent of the undergraduates studying engineering are women. And in the fields critical for transforming a carbon-based transportation infrastructure such as aerospace, mechanical and electrical engineering, less than 15 percent of these students are women.
Interesting enough, engineering fields that allow women to align their vocations with their avocation to contribute to the social good have large percentages of undergraduates. Such fields include biomedical engineering and environmental engineering, where the percentages are more than one-third women.
Those low numbers are not the result of lack of interest or aptitude among girls and young women for science and math. Many studies have found that, as elementary and middle school students, girls are as enthusiastic as boys about STEM classes.
According to an American Association of University Women (AAUW) study, that enthusiasm continues into high school, where girls are as well-represented as boys in upper-level science courses. However, the AAUW found that fewer young women continue scientific studies in college, and fewer still at the post-graduate level.
Indeed, societal mores -- ranging from the culture in a science classroom to the availability of child care for women putting in long hours at university labs or industry engineering positions -- have been found to be responsible for the shortage of women in science and technology careers.
This is true not only in the U.S., as an MIT study of women faculty advancement documented, but in Sweden, Italy and elsewhere, where studies have found that women scientists must pass more stringent reviews in order to advance to faculty positions. In several Middle Eastern countries, women need a man's permission to even go to university unaccompanied.
The future of the planet will require the active involvement of educated women addressing the energy challenge on a local and global scale. After all, the greenhouse gas emissions don't hover over one country; they impact the climate and planet everywhere.
So what are the policies required to get more women and girls involved? First, we need an international focus and commitment to provide for the safety, welfare and education of women, by men and women. Second, we need more mentors and role models to lead the way. Finally, we must provide support to educate all women.
With his Change the Equation campaign to promote science and math education, President Obama has pledged "to restore science to its rightful place ... and to wield technology's wonders to meet the demands of a new age." We need to ensure that women will stand shoulder-to-shoulder with men. The time for bold action is now.
The opinions expressed in this commentary are solely those of the writers.
FOLLOW THIS TOPIC