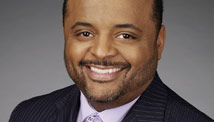 STORY HIGHLIGHTS
Commentator Mike Huckabee talks of President Obama's "different worldview"
Martin says such comments do nothing to advance America
There is no single American way, Martin says, but many American ways
Editor's note: Roland Martin is a syndicated columnist and author of "The First: President Barack Obama's Road to the White House." He is a commentator for TV One Cable network and host/managing editor of its Sunday morning news show, "Washington Watch with Roland Martin."
(CNN) -- When then-Sen. Barack Obama gave the speech at the 2004 Democratic National Convention that thrust him into stardom, he made it clear that it was time to shed the red state-blue state nonsense and embrace the concept that "We are one people, all of us pledging allegiance to the stars and stripes, all of us defending the United States of America."
So, if we can stop with the ridiculous labels and categorizing of states politically, can we also do away with the nonsense of who hails from real America?
This insulting, degrading and separatist view came into full view this week with the nonsensical comments of Fox News host Mike Huckabee, who continued the false assertion that President Obama was raised in Kenya. It was such a blatant lie that Huckabee tried to clean it up later, saying he meant Indonesia.
But what was even more galling was the former Arkansas governor trying to advance the fictitious notion that Obama has a worldview that is essentially un-American and out of the norm.
"I have said many times, publicly, that I do think he has a different worldview and I think it is, in part, molded out of a very different experience," Huckabee said in a radio interview. "Most of us grew up going to Boy Scout meetings and, you know, our communities were filled with Rotary Clubs, not madrassas. And I just do think that there is -- again, I am not saying he's not a citizen, I've never said that, I've said the opposite. I've never said he's a Muslim."
First, real reporting by a real news network like CNN proved that Obama didn't attend a madrassa, a Muslim religious school. Was part of his childhood in Indonesia? Yes. But was part also in Kansas and Hawaii? Yes. And just in case Huckabee skipped a geography class (similar to Minnesota GOP Rep. Michele Bachmann skipping American history), Hawaii and Kansas are two of the 50 United States of America.
This divisive language does nothing to advance the different communities all of us were raised in. Many still chafe at former Alaska Gov. Sarah Palin defining "small-town" America as "real America." Hell, I get offended as a native Texan when I meet a New Yorker who assumes I'm from the country and haven't been to a civilized world. That kind of worldview is dumb and filled with stereotypes and boneheaded assumptions.
You would think Huckabee would be careful with such language. There is no doubt he doesn't like folks making ridiculous comments about "inbred" families in Arkansas or a state full of hillbillies.

Huckabee's surprising misstatement
See, Huck, I wasn't raised in Indonesia. Both my parents are black and I can tell you that my neighborhood didn't have a Rotary Club, and there is no indication that Boy Scouts and Cub Scouts were in full force in Houston's Clinton Park. But that doesn't mean I'm less of an American than you.
This is what happens when you have a view that doesn't fully take in everyone. It sort of reminds me of GOP Sen. Bob Dole's 1996 presidential campaign. He kept harking back to the days of Ozzie and Harriet, when life was so much simpler. He never seemed to understand that if you were an African-American oppressed under Jim Crow or a woman without many rights, you wouldn't look so fondly on the good old days.
When we define America only through our own lenses, we fail on so many levels. What makes America truly great is that there is no one American way of life, no one culture. It is a combination of different flavors, blends, palettes and colors.
During an interview Friday from Los Angeles for my TV One Sunday morning show, "Washington Watch," Gen. Colin Powell, a son of immigrants, dismissed Huckabee's analysis as "just another way of attacking" President Obama politically and as a way to "try and confuse people."
"We've got to knock this nonsense off. Barack Hussein Obama, as I have said before, was born an American. He is an American. He's never been anything but an American," Powell said.
He agreed that trying to divide the nation is "coded" language and it is wrong and dangerous.
"I made the point that there is not a good America or a bad America. There is not small-town America is good and big-town America is bad. Don't tell me that I lived in a bad America because I was born in Harlem and raised in the South Bronx," said Powell, who was honored Friday with the NAACP's President's Award for his lifetime achievement.
"I had a great upbringing, and I had parents who believed in America with all their heart ... but they were immigrants. ... I was a black kid living in a segregated country, and all that has now changed. And so any American is a good American if that American believes in the country, believes in himself and is contributing to our society. We shouldn't fractionate ourselves by north, south, east, west, rural or urban."
Maybe Mike Huckabee ought to spend some time with an American hero like Gen. Powell. He could learn a thing or two about an America that doesn't look like the one he grew up in.
The opinions expressed in this commentary are solely those of Roland S. Martin.
FOLLOW THIS TOPIC