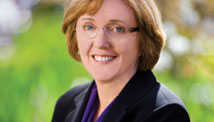 STORY HIGHLIGHTS
Kathleen McCartney: Cutting Head Start childhood education is false economy, will cost later
Head Start kids score higher on measures of success in adulthood, she writes
McCartney says the program enables poor parents to work and to earn more
Congressional budget proposals seem to reflect ideology, not evidence, she writes
Editor's note: Kathleen McCartney is dean of the Harvard Graduate School of Education and Gerald S. Lesser professor in early childhood development.
(CNN) -- Early childhood education is the single best investment we can make for our children. Unfortunately, the U.S. House proposed a spending bill for the remainder of 2011 calling for drastic cuts to education, including a 22.4% reduction in funding for Head Start and Early Head Start.
The Senate has rejected this particular bill, but the budget debate continues in Congress. If the House gets its way in cutting nearly a quarter of Head Start's funding, 218,000 poor children will be dropped from the program and 55,000 Head Start workers will lose their jobs. Cutting costs associated with early childhood education programs such as Head Start would be penny wise and pound foolish.
Head Start is one of the lasting legacies of President Lyndon Johnson's war on poverty. In 2010, the country invested more than $7 billion to prepare poor preschoolers for school success. This is a lot of money, but there is ample evidence that early childhood education more than pays for itself.
James Heckman, a Nobel laureate economist from the University of Chicago, has shown that investments in the early years yield larger returns than at any point during childhood. "Waiting until age 5 to begin formal education is too late for disadvantaged children," he says, "as we miss the opportunity to build on success."
If you achieved this level of return on your stock portfolio, surely you'd invest more, not less.
--Kathleen McCartney on benefits of Head Start
His analyses demonstrate convincingly that every dollar invested in early education produces a 10% per annum return. If you achieved this level of return on your stock portfolio, surely you'd invest more, not less.
Too often policy does not reflect evidence, perhaps because we do not know how to employ data in a democracy. Policy privileges values over research, especially when new funding streams are involved. So instead of investing in early education, we invest in remedial education, grade retention and the juvenile justice system -- the not-so-hidden costs of school failure.
It turns out that these interventions during the school years cost a lot more than prevention efforts during early childhood, and the return on the investments is not as great.
From the beginning, policymakers and social scientists have debated whether Head Start is effective enough. Rigorous experimental studies have demonstrated that children in Head Start outperform other poor children on a range of cognitive and social outcomes; however, some social scientists have dismissed statistically significant effects as too small.
In fairness, the results for standardized achievement and cognitive tests are rather modest. But they don't tell the whole story. David Deming from Carnegie Mellon University conducted a clever evaluation of Head Start by comparing siblings, one who experienced Head Start and one who did not. His findings show that Head Start children score higher on a measure of young adult success that includes high school graduation, college attendance, idleness, crime teen parenthood and health status. And the effect is large; in fact, Head Start closes one-third of the gap between children from families with median incomes and those with bottom quartile incomes.
The health effect that Deming identified has been replicated in many other studies. Children participating in Head Start are less obese, more likely to be immunized and less likely to smoke as adults. This saves us money, too.
Head Start offers a further benefit to our country. Specifically, this program enables poor parents to remain in the work force and to earn higher salaries. As such, Head Start supports welfare reform by helping poor families break the cycle of poverty. Too often, the only option for poor parents is informal child care arrangements of low quality that do not support the developmental needs of their children or their own employment needs.
Many early childhood advocates have good ideas about how to make Head Start even more effective; for example, a longer school day and an improved teacher work force. Such changes would undoubtedly result in even larger effects for our nation's most needy children.
During the war on poverty, we cared about the unequal access to educational opportunities that begin at birth; we understood that education is a civil right; and we knew that education was the only road to achieving the American dream. In light of today's budget constraints, we must also care about cost-benefit analyses. Head Start makes the grade on all counts.
The budget deficit is real. Congress will have to make tough choices in the years ahead; however, I worry that the congressional budget recommendations reflect ideology more than evidence. Cutting a cost-effective education program such as Head Start is neither sound fiscal policy nor sound education policy.
The opinions expressed in this commentary are solely those of Kathleen McCartney.
FOLLOW THIS TOPIC